Though Chris and I tend to be the outward face of Bedrock one cannot get a real sense of how Bedrock wines are made without a humble bow to the small group who bust their behinds for us almost every single day. Though possessing different personalities and strengths we can say that a golden thread of thoughtfulness, intrepidness and kindness runs through the group as a whole. -MTP
Cody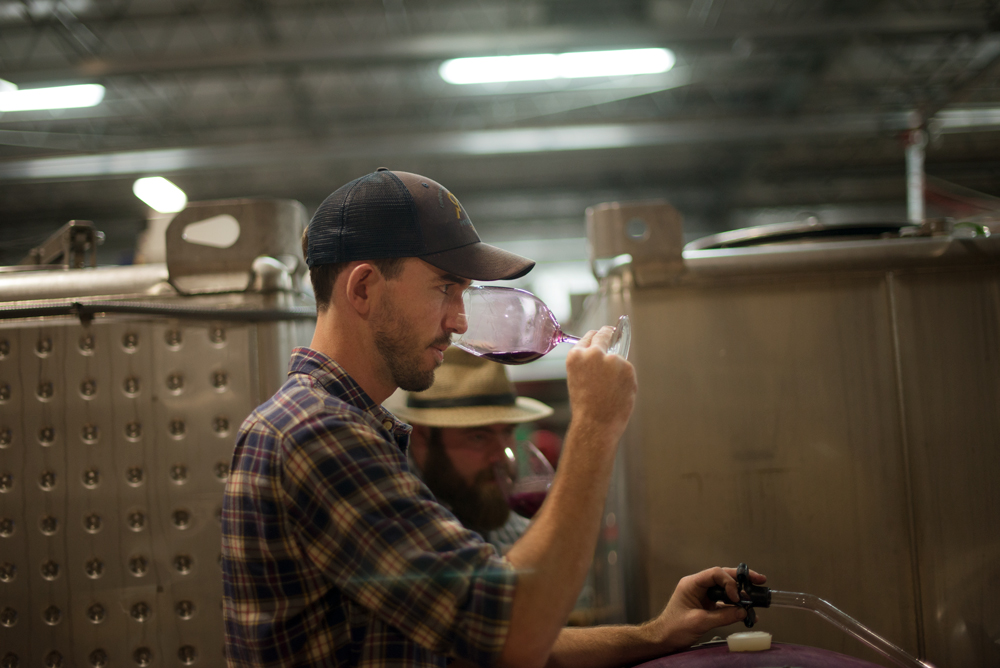 Assistant Winemaker Cody Rasmussen was born in Arizona and raised in Iowa, places that respectively instilled in him his lifelong loves of collecting rocks and reading (not much else to do in Iowa). He double-majored in political science and economics at Williams College in Massachusetts, where he met his first intellectual nemesis, Chemistry 201—a cruel irony a few years later when he had to self-teach about redox reactions and polar-covalent bonds in the cellar.
A month abroad in Stellenbosch and a semester eating all the pizza in Rome introduced Cody to the wine world, and back at Williams for Senior year, Cody spent all his food money on wine from the local wine shop while opting for the collegial sustenance of ramen, Mac 'n' Cheese and frozen pizza. The Wine Atlas and The Oxford Companion to Wine guided his extra-curricular studies; Reading Between the Wines changed the course of his career ambitions.
He sent a cold-call email to every winery in the Russian River, Dry Creek and Alexander valleys and landed his first harvest job in the Russian River Valley in 2011. He then worked harvests at Patz & Hall in Sonoma and Craggy Range Winery in Hawke's Bay, New Zealand, before becoming Bedrock Wine Co's third employee in summer 2013. He and his wife Emily live in the Mayacamas Mountains outside Glen Ellen with their golden retriever Kinley. When not in the winery, Cody is most frequently found cooking Serious Eats recipes, devouring the pages of a viticulture book or backpacking in the High Sierras.
Read More
Luke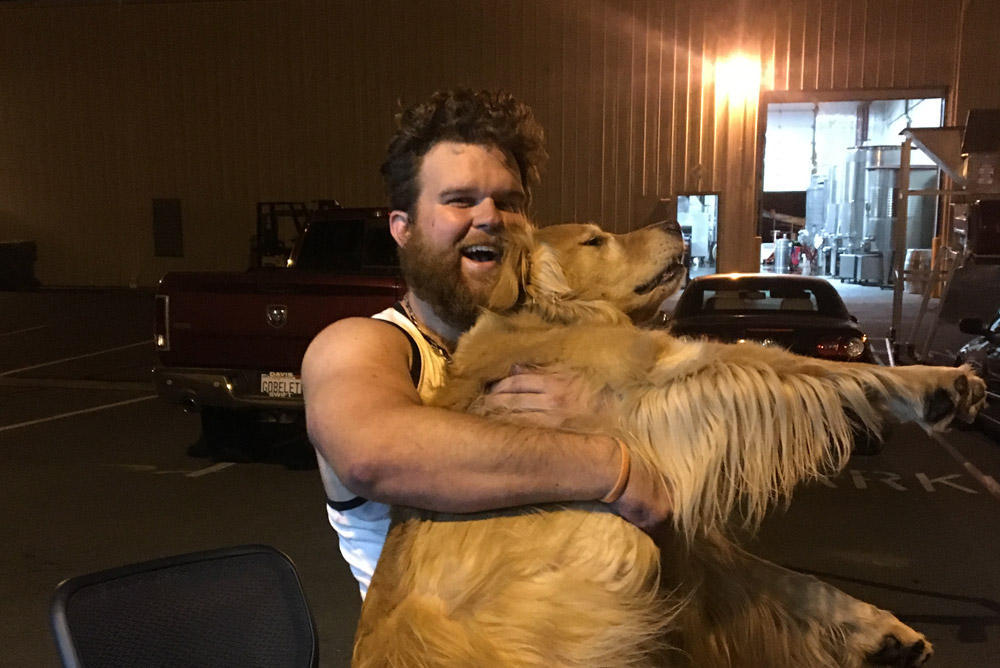 Cellarmaster Luke Nio is Bedrock's human embodiment of a Jeroboam. Born and raised in Northern California, he met the wine world via old vine Alicante Bouschet grown in his uncle's Sonoma backyard. Wine didn't become Luke's career, though, until he started at UC Davis with biology and forensic sciences in mind; fortunately for us, that was derailed when he took Intro to Winemaking freshman year, and Luke is now the proud owner of a Vit & Enology degree. His harvest experience varied from natural wines at Kaz to Russian River Pinot Noirs at Balletto Vineyards, then old vine Syrah at Trinity Hill in Hawke's Bay, New Zealand, where he honed his forklift skills and cannon-balled into an open-top fermenter filled with whole cluster Syrah.
Luke has been the Bedrock cellarmaster since 2013 and brings both muscle and spirit to his work. He is also one of the nicest human beings around, though we recommend not criticizing San Francisco Bay Area sports teams within earshot. When not driving the forklift and managing the Bedrock playlist, Luke is cheering on the Giants, listening to his vinyl collection, playing vintage N64 games, and growing his beard. Certain habits, mainly eating raw fish and sleeping, were inherited during his previous life as a bear.
Read More
Jake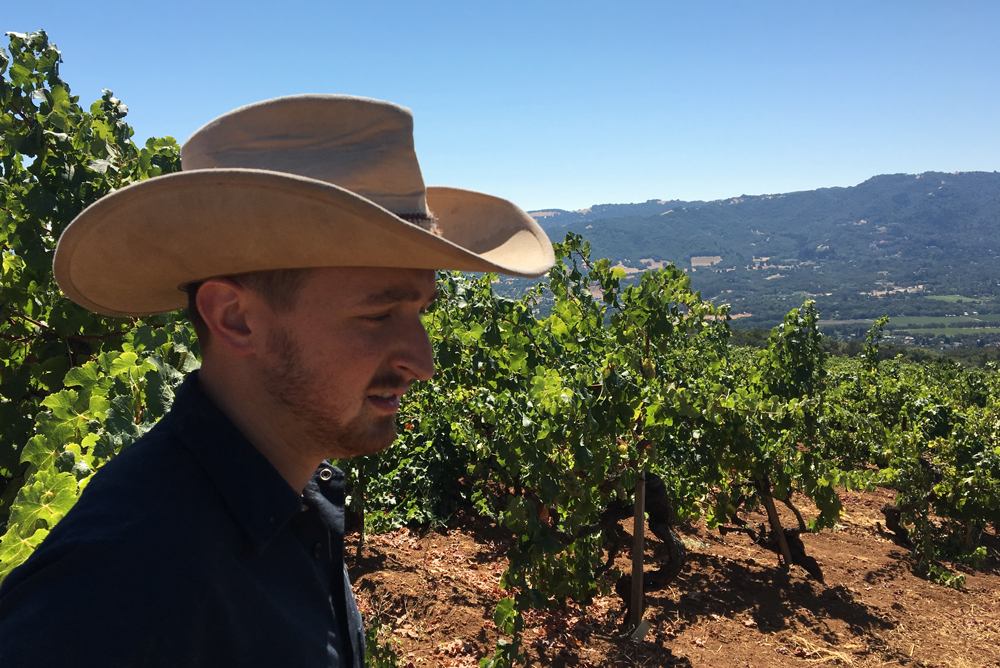 Vineyard Manager Jake Neustadt grew up in the East Bay and came of age backpacking in the Sierras and annoying his neighbors with an overly loud garage band. His higher education at UC Davis began with a focus on journalism and international relations but, upon realizing the bleak realities of those career paths, quickly gravitated toward agriculture and winemaking.
Jake's wine industry career has orbited around old vines (Rock Wall Wine Company, Ridge) with a sidestep into West Sonoma County Pinot Noir (Freeman) and a harvest learning the agony of bird nets in Central Otago, New Zealand (Misha's Vineyard). It was at Ridge, under the tutelage of David Gates and Will Thomas, that Jake learned the idiosyncrasies of farming old vines with sustainable practices like biological control and site-specific cover cropping along with using modern viticultural instrumentation and data analysis in order to improve old-school organic and dry farming practices.
Among his many talents, Jake can show you the difference between a beneficial six spotted thrip and an injurious pacific spider mite egg on the back of a grape leaf. When not at the winery, he's probably drinking wine at his home in Sonoma, backpacking/hiking, or playing/writing/singing music.
Read More
Sarah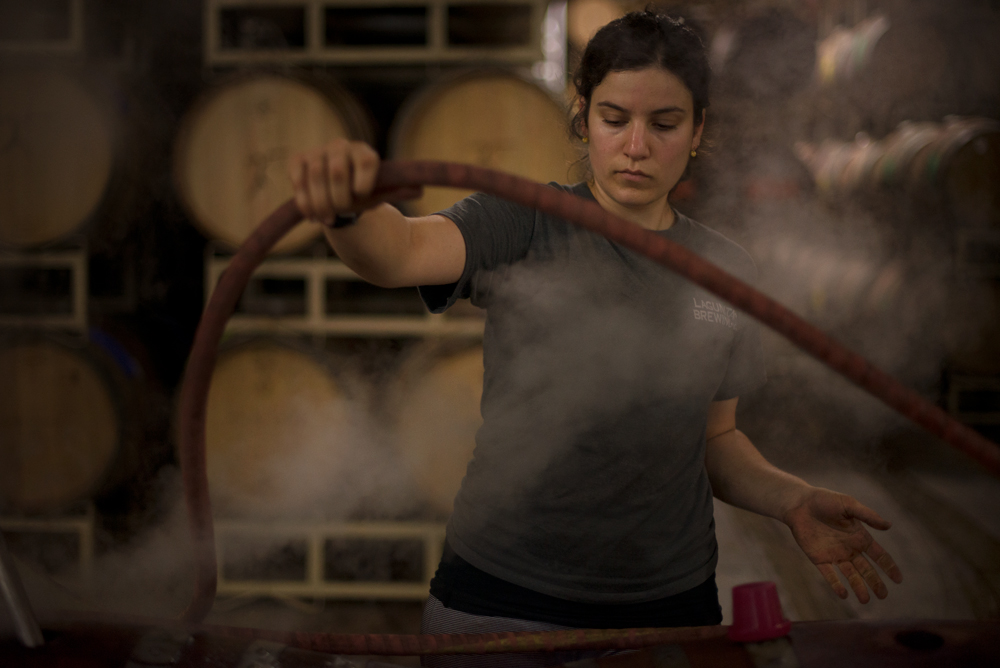 Sarah Geisse is the newest member of the Bedrock team. She started as a harvest intern in 2016, and none of us were ready to see her go so we offered her a full time job instead; she accepted. Her cellar prowess spans the gamut of tasks from steaming and sanitizing barrels to getting elbows deep in pomace digging out a tank. Sarah has a geology background, which comes particularly in handy when it comes to vineyard work. (This is where we resist making a pun about how much she rocks—oops)
Sarah grew up in Marin, then studied geology at Colorado College, wherein a hydrology class introduced her to viticulture. She has packed a significant amount of viticulture and enology experience into her few years in the wine industry, including work on the other side of the Mayacamas Range at St. Supéry and the other side of the world at Cloudy Bay in New Zealand. Outside the cellar, Sarah is an avid hiker (she finished a Kilimanjaro climb just before the 2016 harvest) and a fantastic baker, which benefits us all during the days of intense calorie-burning during harvest. Sarah will be heading over to South Africa to spend the southern hemisphere harvest 2017 at Mullineux Wines before coming back just in time to prep for the California harvest—just one example of the indefatigable work ethic that makes her such an asset to the team.
Read More
Kristin
Kristin Wastell has lived in Sonoma for four decades, joining the Bedrock family in 2017 with a wealth of hospitality experience and the kind of grace and elegance that can't be taught. Born and raised in a small town outside Erie, PA, Kristin moved to Sonoma in 1975 and started working as a bartender at a French restaurant in downtown Sonoma. Noticing that most people drank wine at lunch, she wanted to learn what all the fuss with wine was all about. She met her future husband Alan at work and was hooked (both to wine, and to him—they celebrated their 38th anniversary in 2018!).
Kristin's career in the wine industry includes time at The Hess Collection, Rutherford Hill Winery, and most recently, 18 years as the tasting room manager at Ravenswood. We stole her out of retirement in the fall of 2017 to help open and run the new Bedrock tasting room, and she's been an invaluable member of the team ever since. When not at the Hooker House, Kristin spends her time walking, gardening, reading, traveling and spending time with friends and family over a delicious glass of bubbles.
Read More
Jackie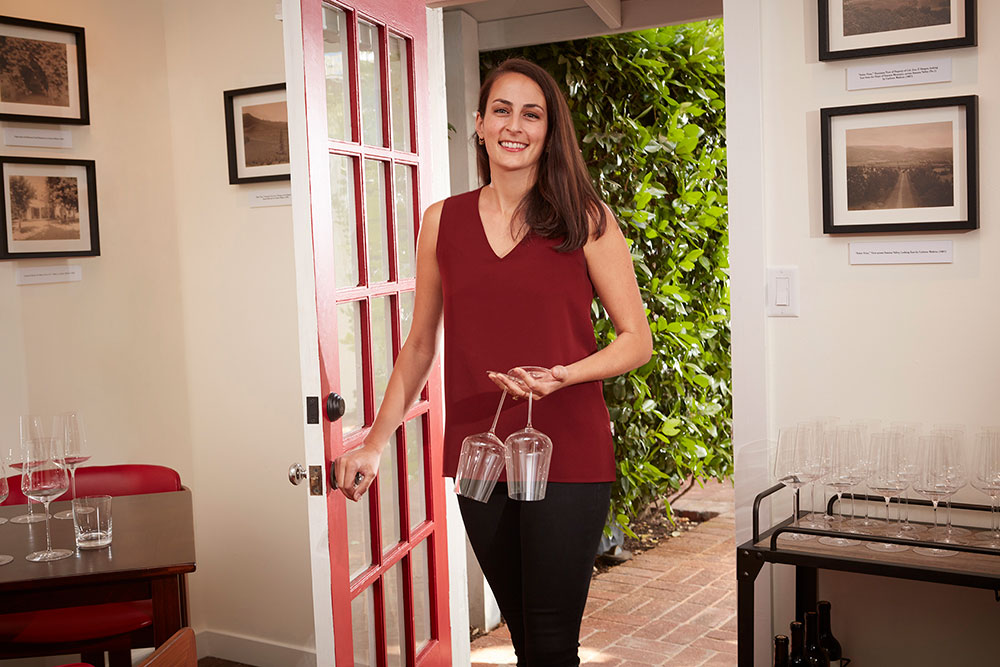 You'd never guess after a tasting with Jackie Sotelo that she is fairly new to the wine industry. Her knowledge and quick-study nature are matched with effortless hospitality. Jackie has lived in the San Francisco Bay Area most of her life, save for two years in New York City and a post-college internship in Paris (her French is flawless, for those interested in hearing all about Bedrock wines en française). A UC Berkeley graduate with degrees in French and Political Economy of Industrialized Societies, Jackie first got into wine during her travels throughout Europe and through work with garagiste winemakers in San Francisco during her work in urban planning. Her wine love skyrocketed, though, when she met her future husband Gustavo, the Associate Winemaker at Scribe in Sonoma, and became immersed in the wine community.
The first years of Jackie's career were spent in product marketing for entertainment and news companies on digital and TV platforms, followed by marketing and community affairs communications for an urban planning company. In 2016, Jackie and Gustavo moved to Napa, and after studying wine through the WSET program and Napa Valley Community College, started working in marketing for a Napa winery. She joined us at the Bedrock tasting room in early 2018, and when not pouring wine for happy guests, is most likely hiking, traveling, watching soccer, concert-hopping around the Bay, shopping for ceramics, listening to Podcasts and working on her Spanish.
Read More
Caritas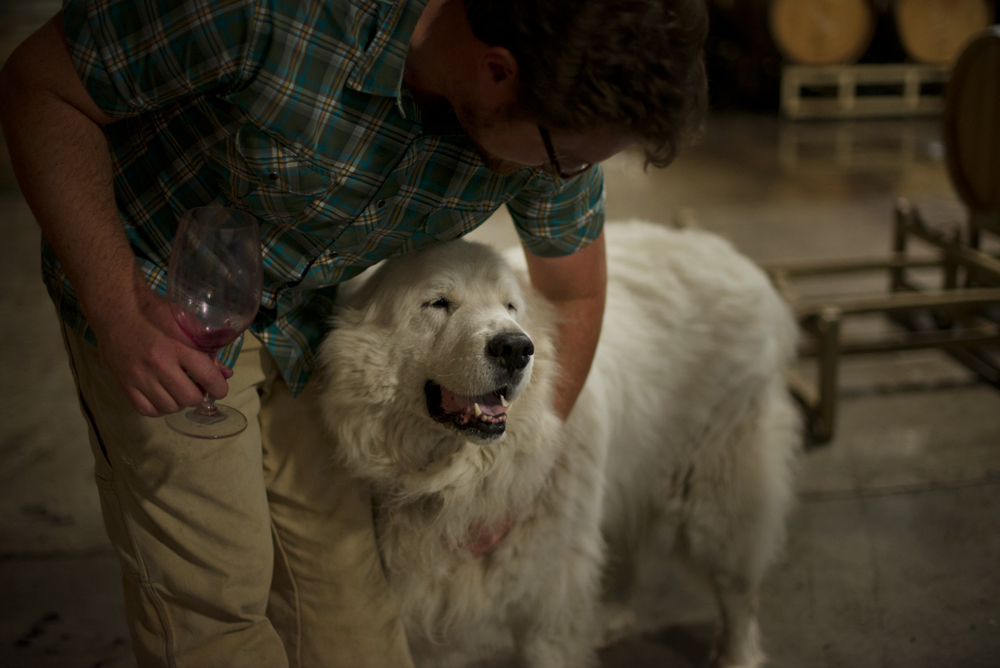 Morgan's dog Caritas, a 16th century Counter-Reformationist Catholic masked as a majestic Great Pyrenees, lived a glorious 13 years before passing in June of 2019. Her days were spent engaging in her favorite activities: showcasing her divine right of dominance over "zee horrid Huguenots!" (aka Kinley and Maya), silently judging the Bedrock team for their innumerable shortcomings, and graciously forgiving said shortcomings when peace offerings of the culinary sort were extended. She was the absolute best, and the namesake for Cuvée Karatas.
Kinley and Maya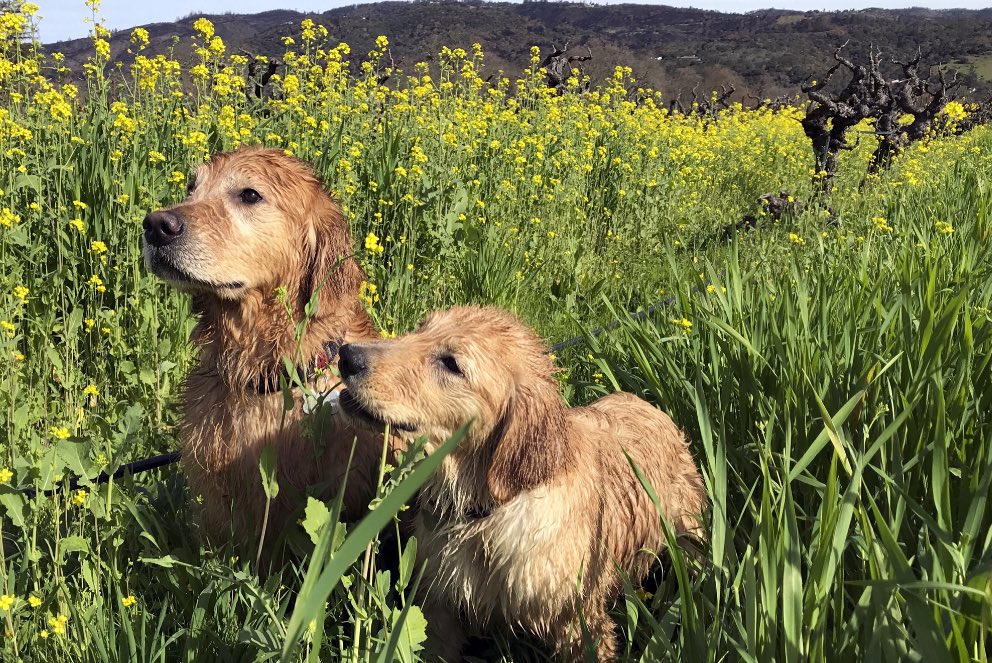 Cody's dogs Kinley and Maya are Golden Retrievers whose primary goal in life, besides napping, is to greet every person that walks into the winery. Kinley's favorite activity is napping under Cody's desk; Maya's is following the winery crew around in search of spilled wine. Their favorite foods are anything stolen from Bedrock harvest interns, whole sticks of butter and/or chunks of Parmigiano. Kinley's favorite beverage is beer, especially after a long harvest day, and Maya's is mid-fermentation Bedrock Heritage Wine.