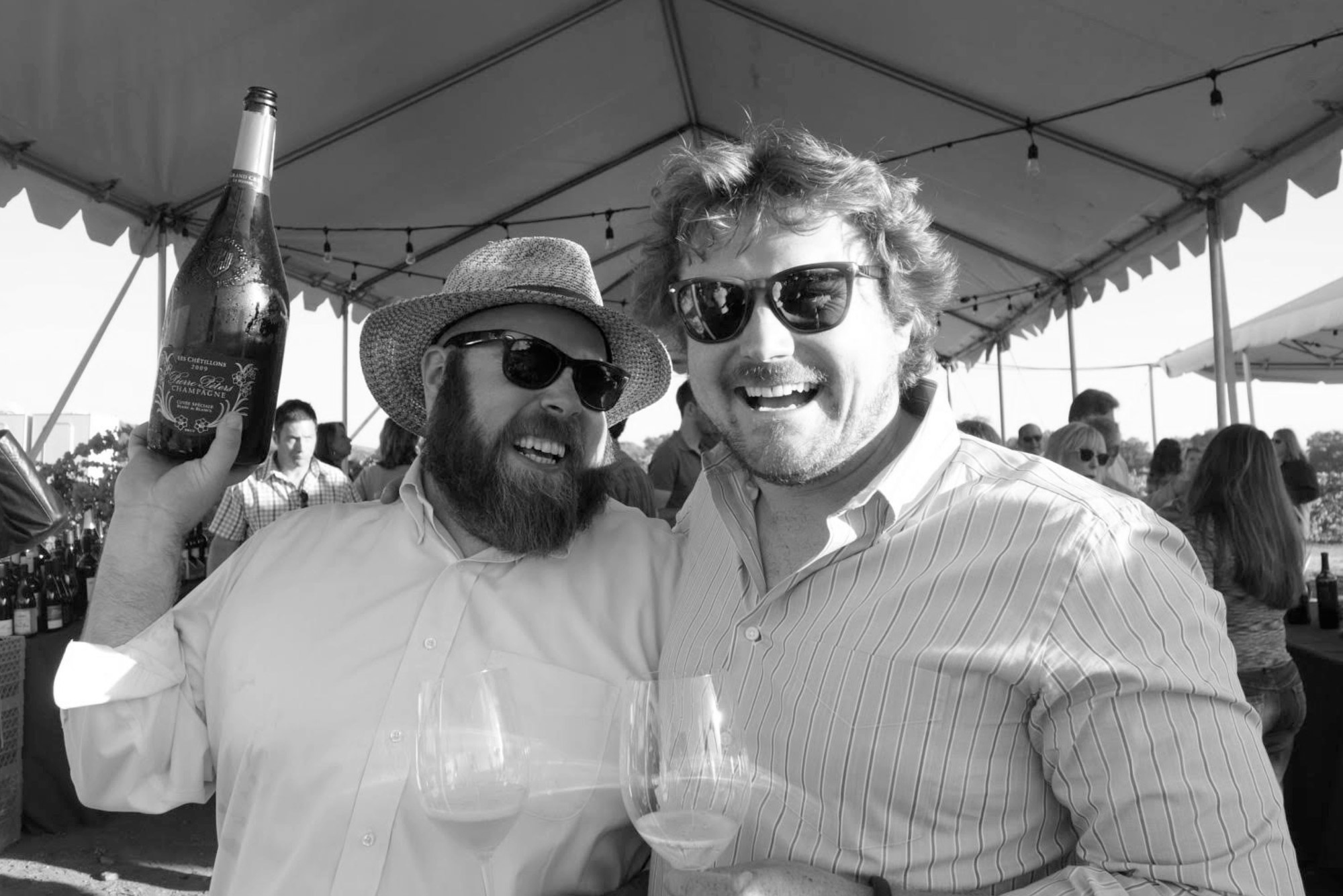 Morgan Twain-Peterson MW
Owner/Winemaker
Morgan was the first baby born in the town of Sonoma in 1981 and made his first wine less than five years later. The wine, Vino Bambino, was made from Pinot Noir given to him by the Sangiacomo family and has been featured on the wine lists of Craft, Gramercy Tavern, Blue Hill, Delmonico's, Aureole, and Mesa Grill.
Morgan's early exposure to wine and winemaking was thanks to his father Joel Peterson, who had started a small passion project called Ravenswood Winery— a job for which he was steadily not making money while working out of a small building along the big curve on Broadway. Though always enamored with the wine industry, Morgan bypassed a traditional Viticulture and Enology degree and studied History and Political Science at Vassar College. After undergrad, he enrolled at Columbia University with an eye towards a Masters in American Studies. meanwhile working at a small shop in the Upper East Side called Pet Wines. There, he met Chris Cottrell, with whom he became fast friends.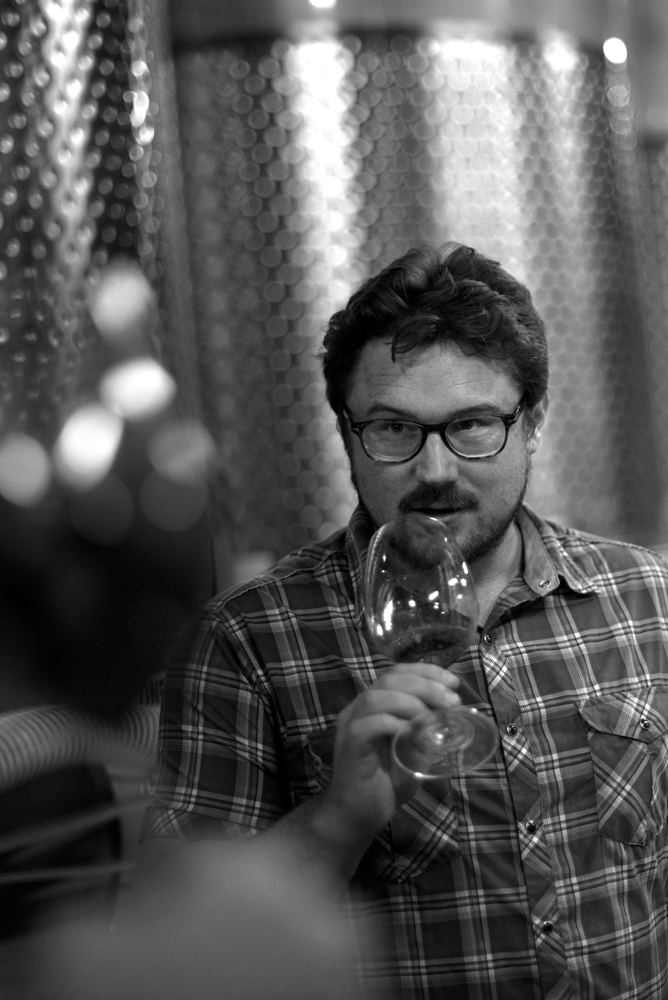 After two years in graduate school, despite a love for learning, Morgan decided to come back to California. He worked harvest at the now not-so-small Ravenswood in 2005 followed by harvests in Australia (Hardy's facility of Tintara and with Drew Noon at Noon Wine Cellars) and Bordeaux (Chateau Lynch Bages). After returning home in the winter of 2006, Morgan set his eyes on starting his own project.
Bedrock Wine Co. began in 2007 in a converted chicken coop on the outskirts of the town of Sonoma. The fruit, hailing from his family's Bedrock Vineyard and Teldeschi Ranch, was hand pitch-forked into a small destemmer and fermented outside under the sun and stars in redwood fermenters. In somewhat dubious timing, the first wines were released 10 days after the collapse of Lehman Brothers, an event which reinforced Morgan's strong feeling that wine should be economically accessible to as many people as possible.
In subsequent years, through perspiration and serendipity, several amazing vineyards were added to the Bedrock portfolio. In addition, Morgan started Under the Wire with his old friend Chris, who he had conned into becoming his partner-in-crime and finances at Bedrock. The wines have been featured in major news publications across the country including the New York Times, L.A. Times, Wall Street Journal, and Washington Post. The wines have been featured four times in Wine Spectator's Top 100 List, placing as high as number 9. In addition, the winery has received a score of 90 points or higher from the same publication over a hundred times. In 2014, Morgan, alongside friend Tegan Passalacqua, was named the San Francisco Chronicle Co-Winemaker of the Year by Jon Bonné. In 2017 Morgan became a Master of Wine, making him one of a handful of winemakers in the United States to gain the certification. In 2020, Bedrock was named Winery of the Year by Antonio Galloni.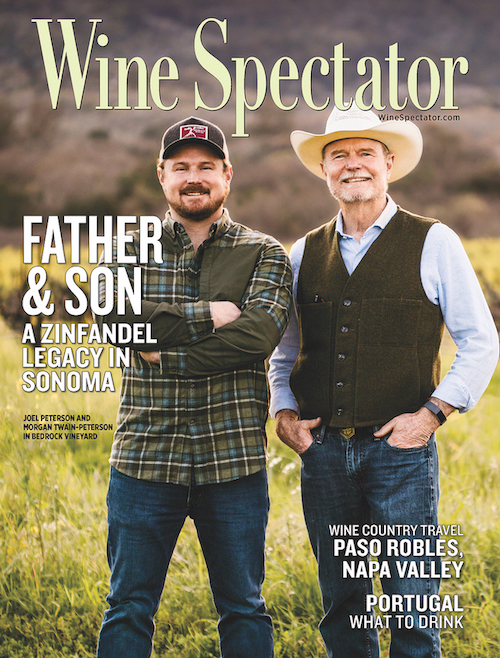 Despite this wealth of external validation, Morgan is happiest when pruning, walking his vineyards during the growing season, obsessing over biological controls and regenerative soil practices, blending and muttering while tasting through barrels or spending hours in his car between vineyards listening to podcasts and annoying friends with trivia. He has also been known to throw a good dinner party, largely thanks to Kayte, Morgan's wife and long-time proofreader of Bedrock release letters. In October of 2020, Morgan and Kayte welcomed their son Joel Howard Peterson (JP or Joel the Younger) into the family. JP has not yet made his first wine, but he's got a few years to break his dad's record of youngest winemaker in the Bedrock family.
Chris Cottrell
Partner/Consigliere
Chris Cottrell was born in Staten Island, New York December 19th, 1985, thanks to his amazing mother Rita Fleming Castaldy.
His early foray into the finer side of consumables was through food, inspired by shows like Great Chefs, Great Cities, Emeril Lagasse and Good Eats. Rita made it a point to take young Christopher out to restaurants from a very young age. "Experiences are worth more than things," she would recite. But "things" had a way of appealing to Chris as well—his pre-teen birthday requests included an All-Clad stainless steel sauté pan and sushi kit. By 15 he had landed a stock boy job at the local beer store, already developing a fascination with craft brews.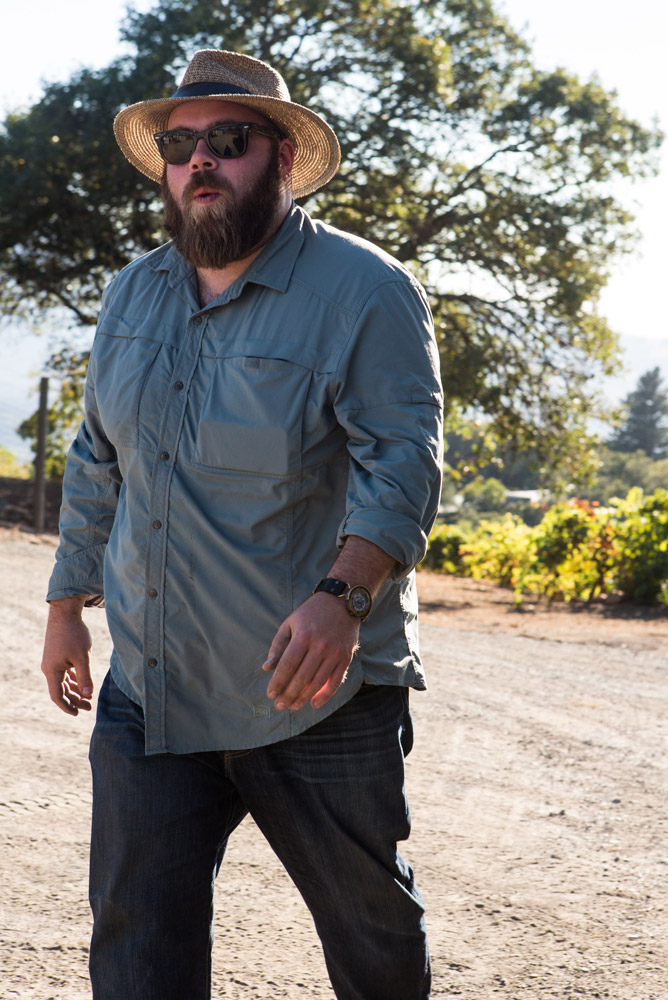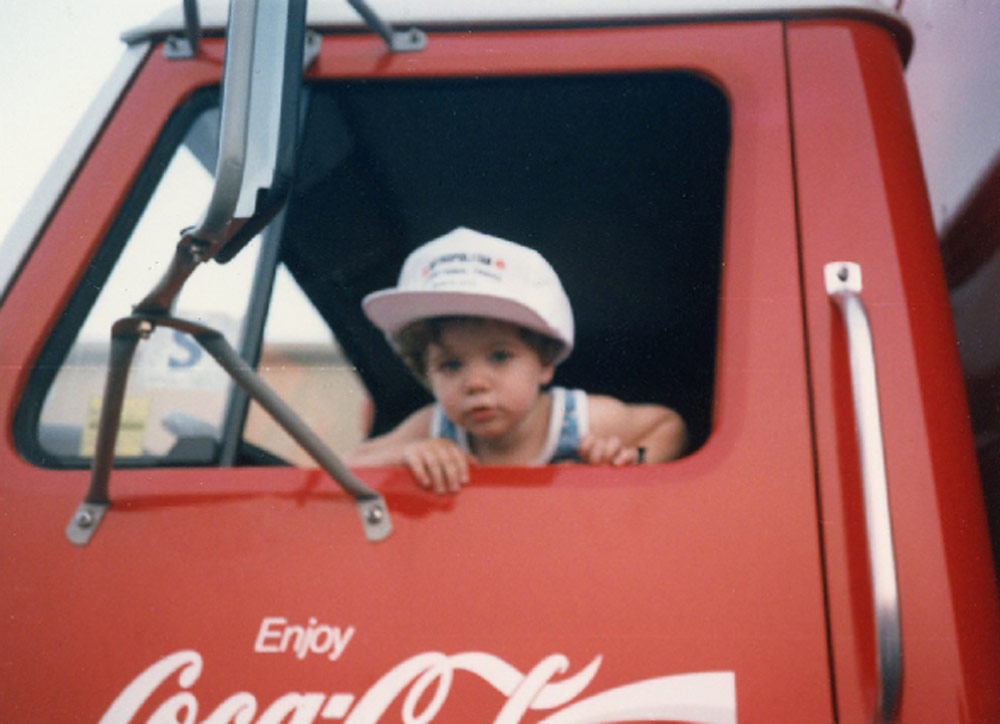 When Chris moved to Manhattan for college, he quickly realized that New York offered many pleasures for a young man finally living on his own. However, money and lots of it was required, so a week after his 18th birthday, Chris scoured Craigslist in search of a legitimate job. There, he found a stock and delivery boy position at Pet Wines, a small neighborhood store on the Upper East Side run by Phil Kotek, a man who cared deeply about the wines he sold. (For example, Veuve's ubiquity had no impact on Phil, whose Champagne shelves were instead stocked with an array of grower Champagnes).
It was at this small neighborhood shop that Morgan and Chris first crossed paths and quickly became partners in crime. Meanwhile, Phil and Morgan began Chris' education in the wines of the world and what made them special. Sadly, Pet Wines closed a year and a half later. Consumed with wine geekiness and a continued interest in earning some spending money, Chris sought out another store and found the newly opened Crush Wine Co.
Crush Wine Co. was a very different store—sleek and modern with a huge selection of fine wines. Chris was overwhelmed and humbled with the realization that he knew a lot less about wine than he thought (something that continues today), but he took up this challenge and flourished there working under Lyle Fass, Tom Stephenson, Joe Salamone, Stephen Bitterolf, Ian McFadden and the big boss, Bobby Schagrin. All had a huge influence on Chris' wine and life education; in this incredibly generous environment, bottles—especially older ones—were opened religiously.
Chris worked at Crush from 2005 to early 2013, foregoing his original plans to attend law school, eventually becoming a full-time fine wine buyer and salesperson. Those eight years were a whirlwind of great wine, education, and travel.
Despite the demands of his fast paced job, Chris would join Morgan at his newly established Bedrock Wine Co. a couple times a year, often lending a hand at harvest and feeling what it felt like to wake up, rather than hit a pillow, at 5 AM. These trips were therapeutic and educational, reminding Chris that wine was not just a commodity but, a product expressing history, place and personalities.
In 2011 Morgan called Chris and said casually, "we should make a wine together." That conversation (and more bottles of good wine than one might care to admit) led to Under The Wire, a partnership project that focuses on single-vineyard, single-vintage sparkling wines inspired by the grower champagne movement.
As the 2011 Under the Wire developed in bottle and Bedrock Wine Co. continued to find success, Morgan suggested to Chris it was perhaps time to move across the country and join Bedrock. About a year later Chris, sacrificing a goat and pledging allegiance to Joel Peterson and the old vines in a ceremony reminiscent of the Sopranos scene where Christopher gets "made," joined Morgan formally and became a partner in Bedrock Wine Co. as the first "outsider" to become part of the business.
The company, and friendship, has only grown since.