It has been said a thousand times. It does not make it any less true. Great wine is made in the field.
Bedrock Vineyard
Sonoma Valley
Bedrock Vineyard is one of the most historically and qualitatively gilded plots of land in Sonoma Valley. Taking up 152 acres of the heart of Sonoma Valley, the vineyard occupies a large section of one of the best growing climates for grapes on earth.
Founded in 1854 by Generals William "Tecumseh" Sherman and General "Fightin' Joe" Hooker, Bedrock Vineyard has grown grapes for over 150 years. Following the first epidemic of phylloxera in the mid-1880s, the vineyard was replanted in 1888 by Senator George Hearst—a mining magnate, an early father of California, and the father of publisher William Randolph Hearst. It is from those 120-year-old vines that the Bedrock Heritage Wine is crafted.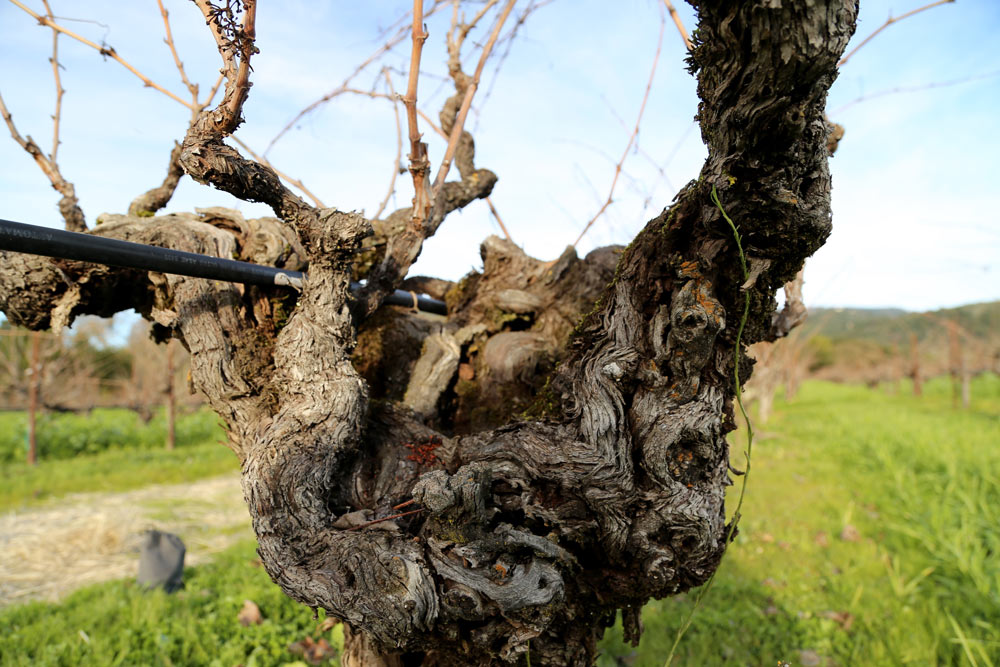 "It is an absolute privilege to oversee such a rich piece of Californian history."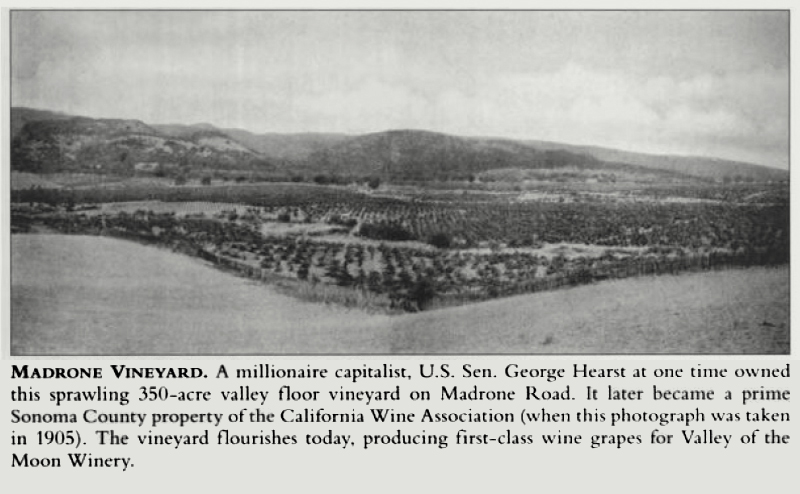 Hearst's widow eventually sold the vineyard to the California Wine Association in the early 1900s, and the vineyard produced grapes for the CWA until the passage of the Volstead Act and Prohibition. In 1934 the property was purchased by the sausage-making Parducci Family and was part of the estate vineyards of early Valley of the Moon Winery. In 1953, when relations between the Parducci family and the business partner Domenici family became acrimonious, the vineyard was split. The Parduccis took a smaller parcel of land with the winery, while the Domenicis took 152 acres of what was then known as "Madrone Ranch." In 2005, our family became the latest curators of this remarkable piece and the ancient vines rooted in its soils.
It is a privilege to oversee such a rich piece of Californian history. Bedrock has become ground-zero for our understanding of farming and preserving old vines and the lessons it has taught us has provided a blue print for more recent restorations around the state.
Evangelho Vineyard
Contra Costa County
Own-rooted on forty-foot-deep banks of beach sand alongside the Sacramento River Delta, Evangelho is a totally unique site. Planted in the 1890s, the vineyard is a viticultural survivor—wedged between a PG&E plant, a Burger King, and a motel that rents rooms by the hour. A field-blend of Zinfandel, Carignane, Mourvedre, and others, the wines are fresh, bright, and typically have some of the lowest pHs of any of the Bedrock wines.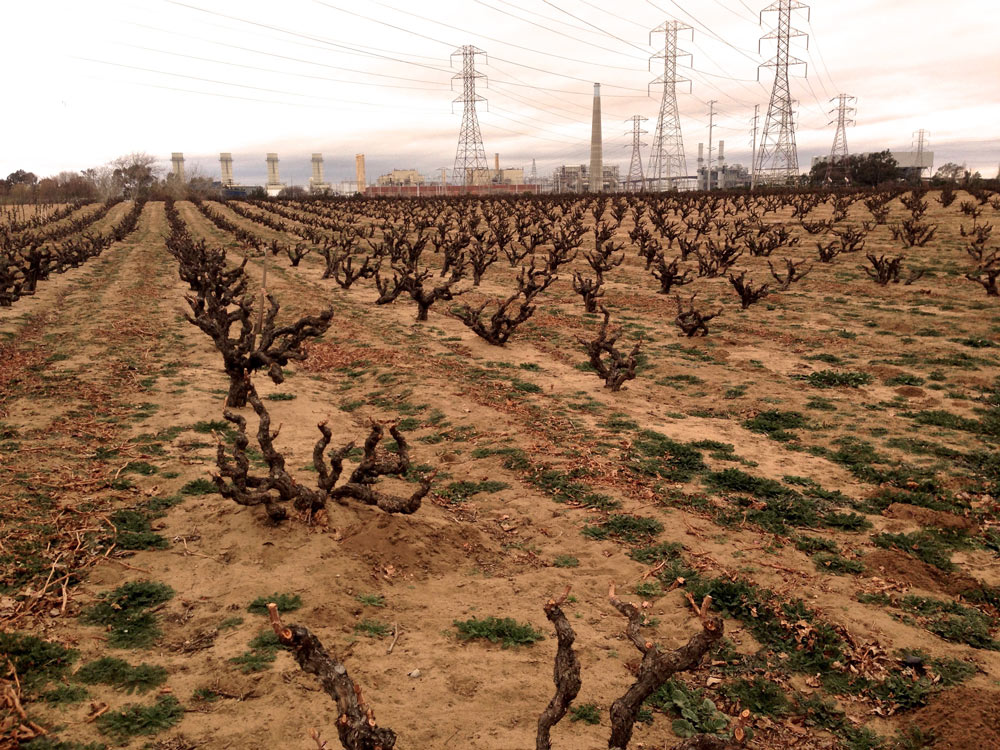 "The visual is incongruous, logic-defying."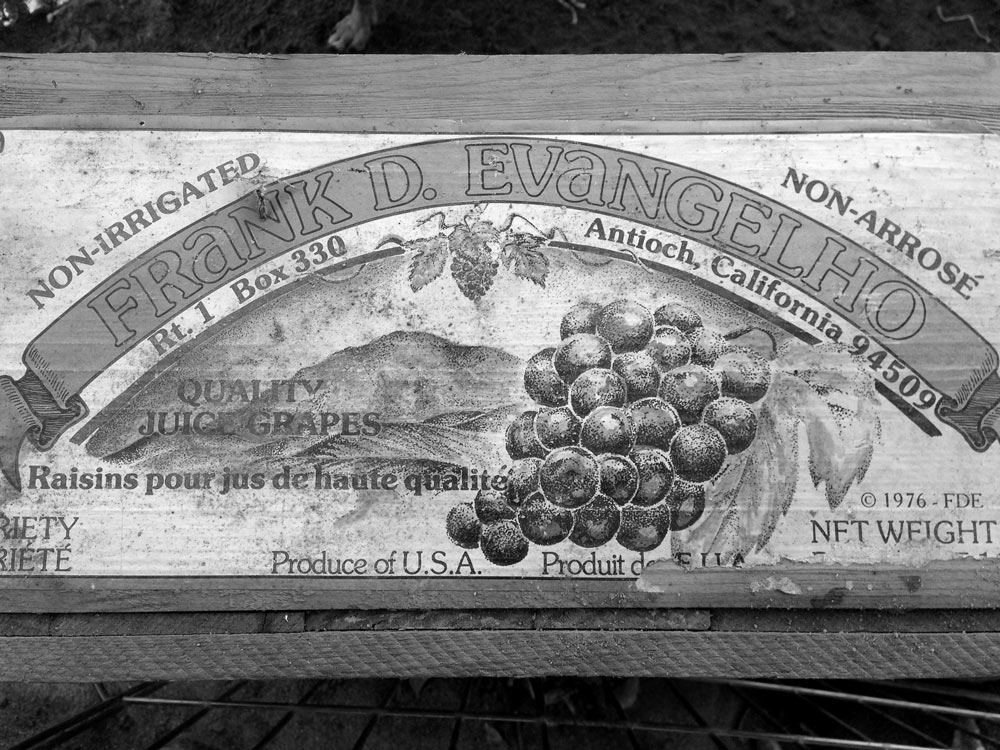 Monte Rosso Vineyard
Moon Mountain District
Perched nearly 2000 feet above Bedrock Vineyard on the bright red, volcanic soils of Mt. Veeder lies Monte Rosso Vineyard. Described as one of the most beautiful vineyards in the world, on a clear day one faces west and looks all the way to the blue of San Pablo Bay and the pointed edifices of San Francisco in the distance.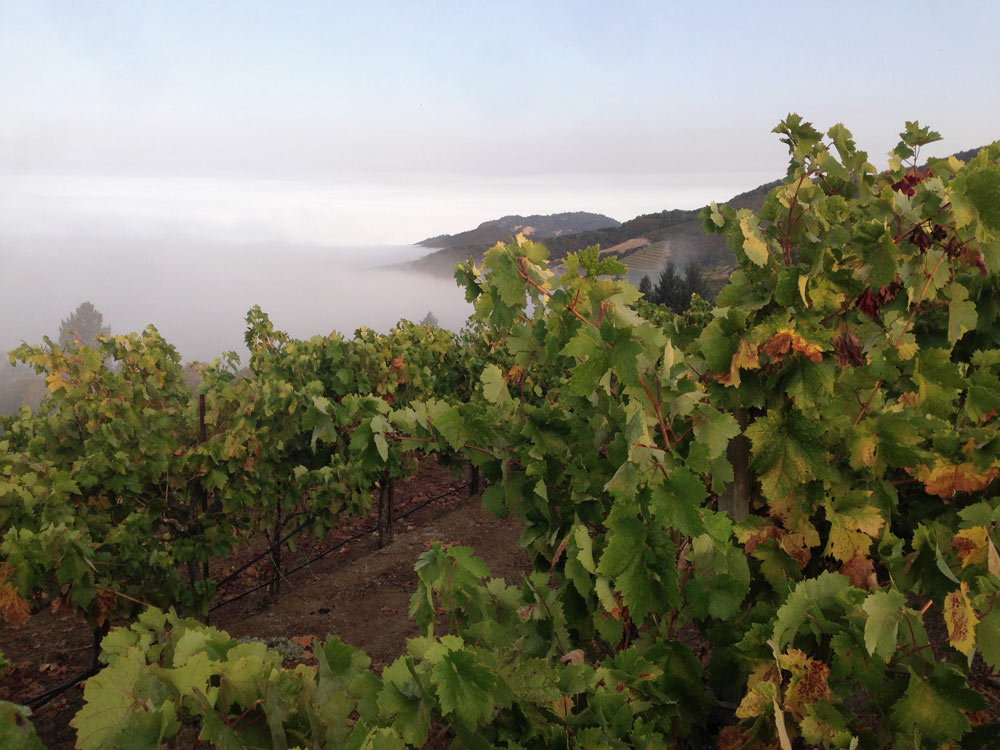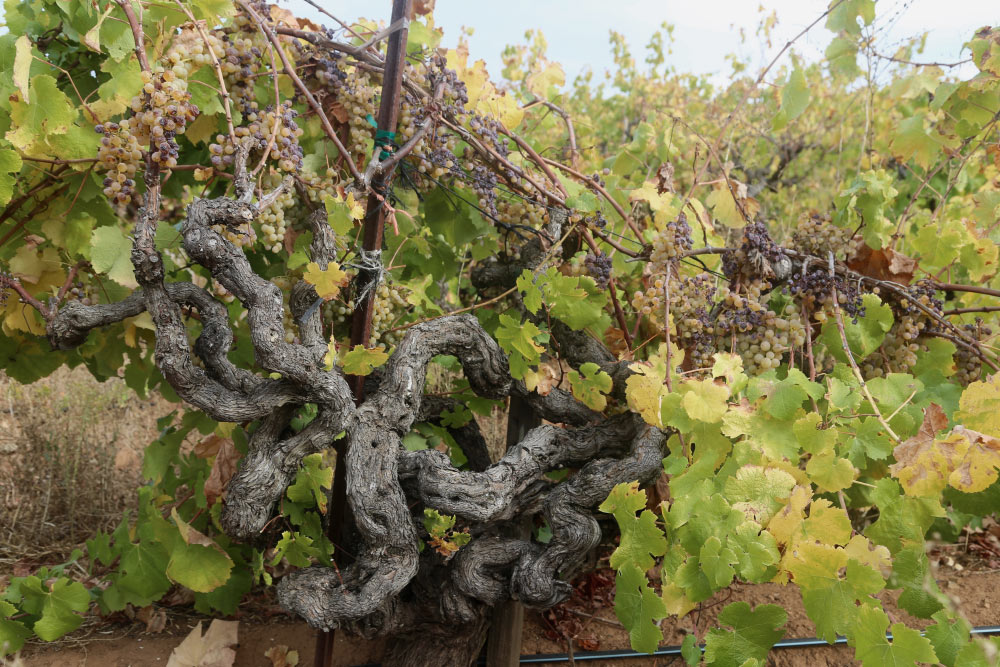 Not only is Monte Rosso gorgeous, it is a wonder of viticulture in the 19th century. There is perhaps no vineyard that would have been harder to put in, and when thinks of the size of the property, this simply doubles in wonderment. The 350+ acres of Monte Rosso lie on the last high flank of the Mayacamas Range. It is named Monte Rosso for its bright-red, iron-rich soils, which impart a remarkable perfume to all grapes from the vineyard. In fact, the terroir here is so strong that I have often mistaken a Monte Rosso Cabernet for Zinfandel—the wines smell and taste like Monte Rosso, far less like the given varietal. What it took to put in the vines back in the 1890s must have been jaw-dropping. In an era of nearly zero automation, no pile-drivers, no back-hoes, and limited means to break-up and terrace the rock, putting in the 350-acre vineyard must have been one of the greatest feats of wine-growing history.
Oakville Farmhouse Vineyard
Oakville
The tiny Oakville Farmhouse, planted in the 1930s, is the oldest remaining vineyard in the appellation. Wedged within an ocean of tightly spaced Cabernet plantings, the diverse vineyard is a remnant of an older, and perhaps more interesting, Napa Valley. The vineyard is planted to an array of varieties including Negrette, Mondeuse, Zinfandel, Petite Sirah, Carignan, Colombard, Chenin Blanc, Semillon, Malvasia Bianca and more.
In the 1880s, H.W. Crabb, the original owner of the famous To Kalon Vineyard, named his favorite of the over 300 varieties planted and sold at his ranch at the time: Crabb's Black Burgundy.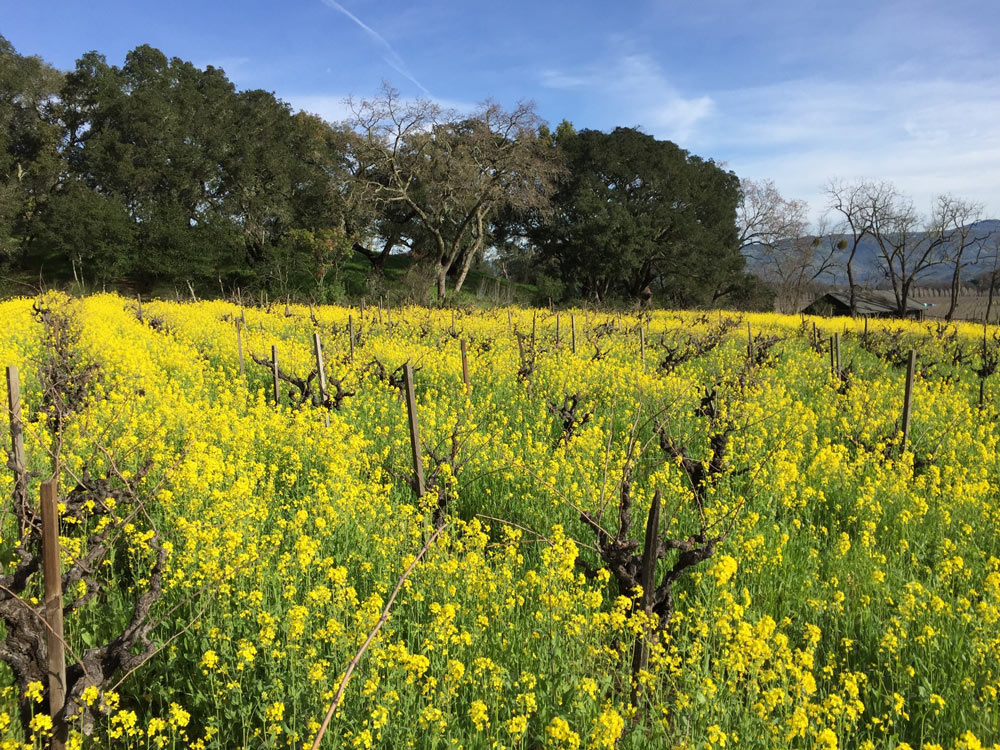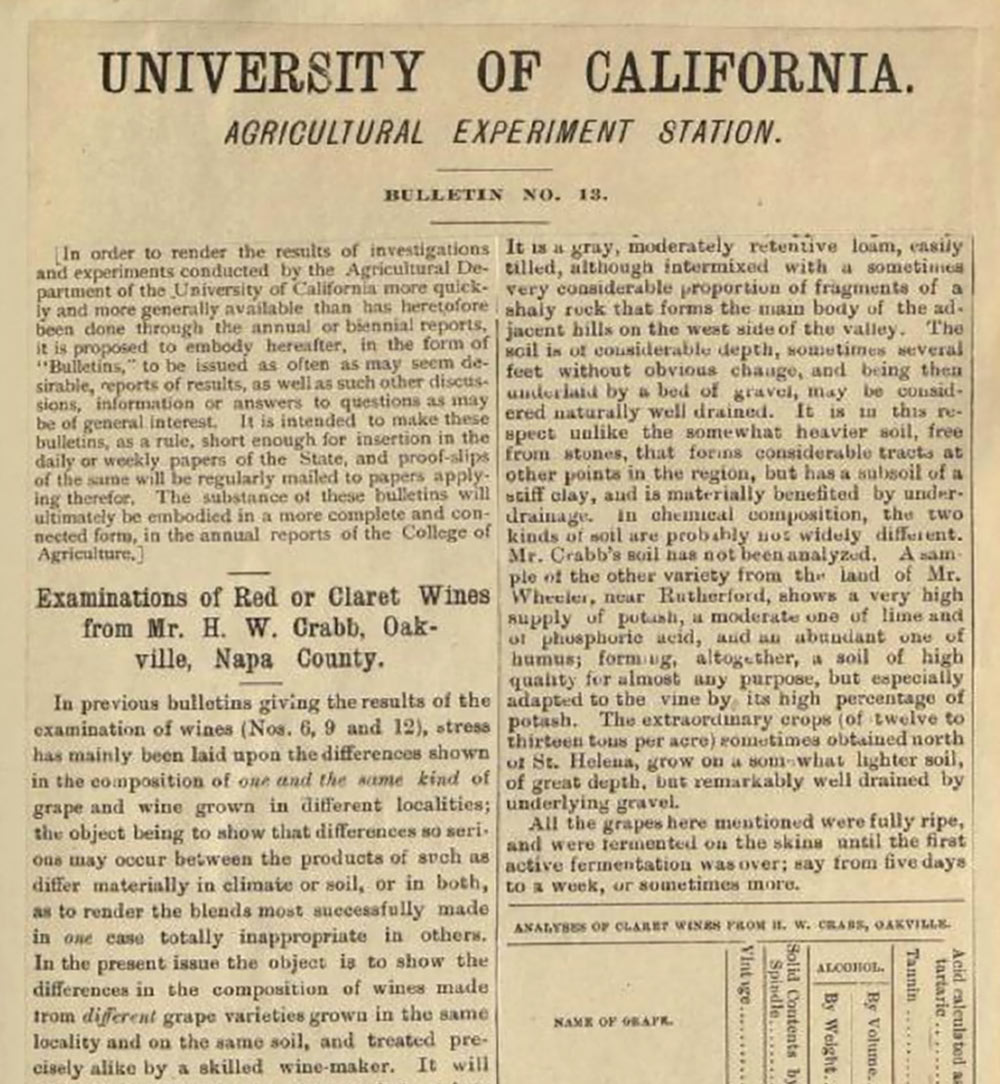 It turns out that Crabb's Black Burgundy, which was widely grown in Napa Valley and across the rest of the state, is Mondeuse. The last remaining old Mondeuse in Napa Valley is at this vineyard, located just a few hundred yards from the edge of Crabb's historic ranch.
Pagani Ranch
Sonoma Valley
Pagani Ranch, with its oldest vines dating to the 1880s, is one of the most famous old vineyards in the state for a reason. It is an honor for Bedrock to receive fruit from these ancient, scant-yielding, mixed black vines. Farmed by the same family for generations, the vineyard lies on two different soil types. The first, which has more of the Sonoma Mountain ashen-grey to its hue, is where the ancient, mixed-black vines grow. The Tuscan Red Hill series soils are deeper, and abut Highway 12 as it lolls forth between Glen Ellen and Kenwood. The vines here, planted in the 1920s, include Alicante Bouschet, Zinfandel, Mourvedre and Muscadelle, some of which find their way into the Pagani Ranch Heritage Wine and the Cuvee Karatas white wine. Certainly one of the most photographed and storied vineyards in Sonoma Valley, this nearly completes the rostrum of ancient-vine plenitude Bedrock Wine Co. is lucky enough to receive from Sonoma Valley.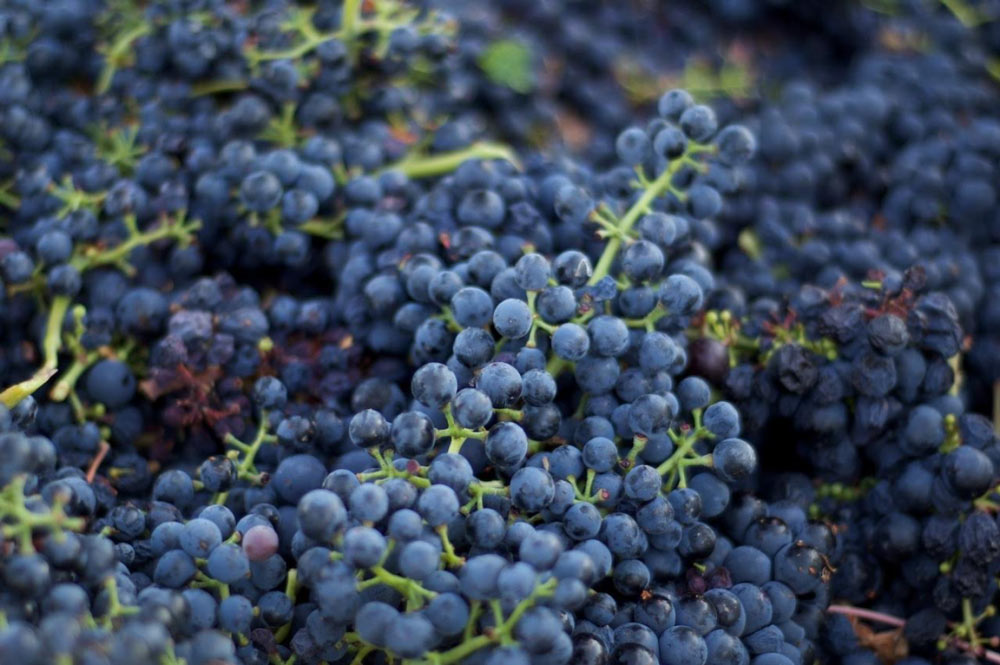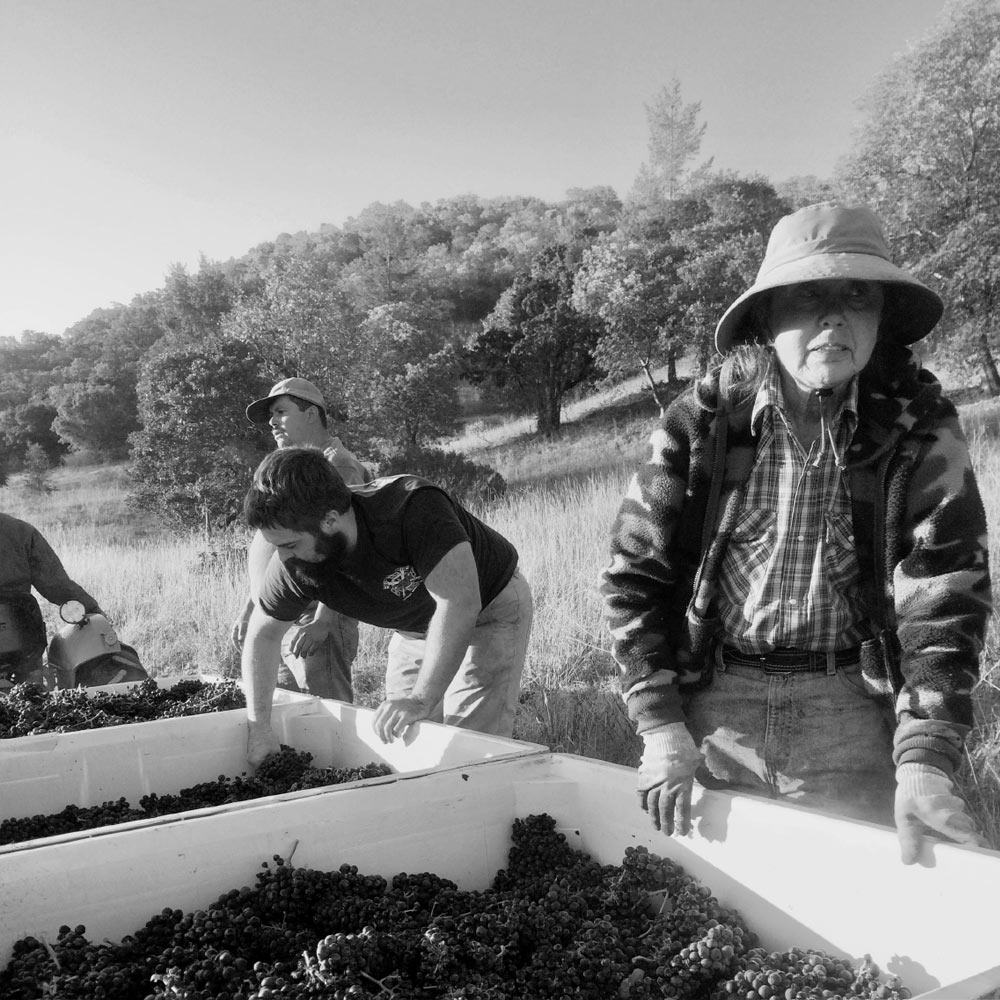 Montecillo Vineyard
Moon Mountain District
Montecillo Vineyard sits at the top of the winding and rough Nelligan Road on the northern edge of the Moon Mountain District AVA. Owned by Karin Lee, the widow of Kenwood Winery founder Mike Lee, the vineyard contains some of the oldest remaining Cabernet in the state. Our block, planted in the 1960s is dry-farmed on a widely spaced "California Sprawl" trellising system. For those of us who love old-school California Mountain Cabernet this is an absolute treasure, yielding ageworthy wines of incredible aromatic dexterity.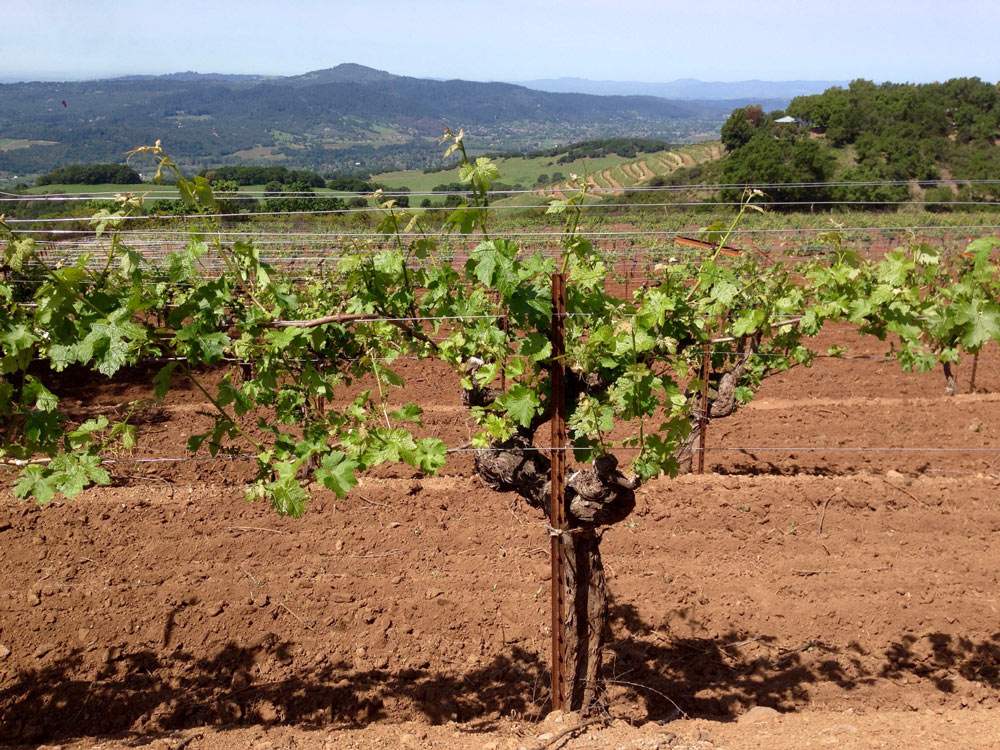 "For those of us who love old-school California Mountain Cabernet, this is an absolute treasure, yielding ageworthy wines of incredible aromatic dexterity."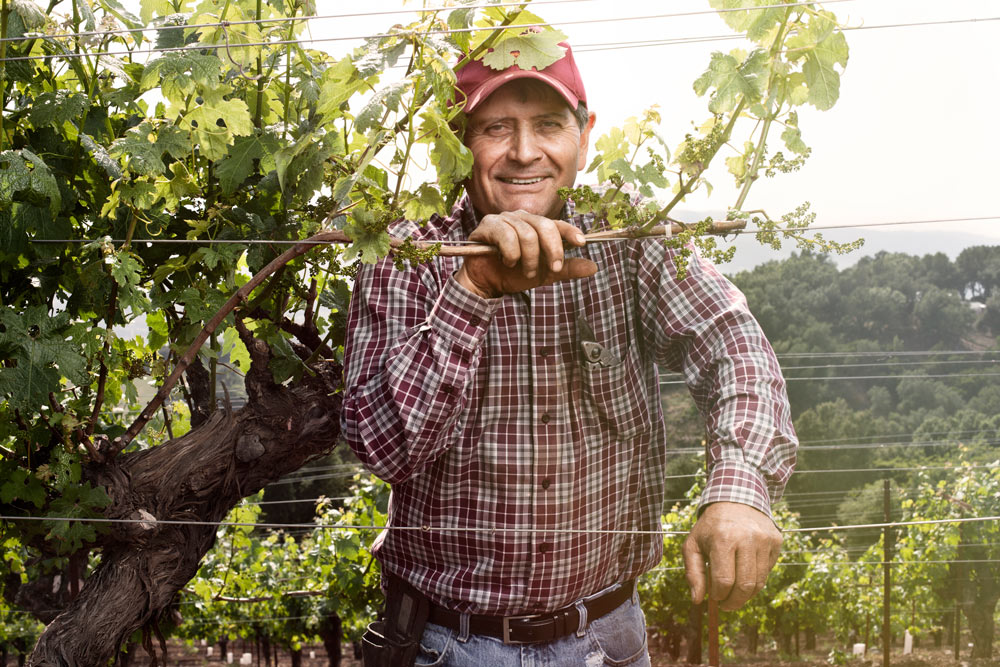 Farmed by the singular Chuy Ordaz, Montecillo was long the backbone of the famous Kenwood Artist Series wines. We feel incredibly fortunate to be able to source fruit from this staggeringly beautiful vineyard.
Griffin's Lair Vineyard
Sonoma Coast
I was still in graduate school when I tasted the first Syrah from Griffin's Lair. It was back in 2005, and the wine was made by the inimitable Pax Mahle. I distinctly remember mentioning to my friend, as we tasted it, that "this is a Syrah that I would love to make." At the time though I was still buried in graduate school, my legs were burning from climbing the stairs of the Ivory Tower and the thought of Bedrock Wine Co. was a mere zygote in my imagination.
It is funny how those seemingly irrational musings on a cold, winter night years ago manifested into something. Joan and Jim Griffin were among the very first that I asked, nay begged, for fruit when I started Bedrock in 2007. Alas, at that point, all the fruit was being taken. However, for two years I sent entreating emails, the thought of the great Griffin's Lair Syrahs tasted in my life still besmirching my better senses, asking for fruit.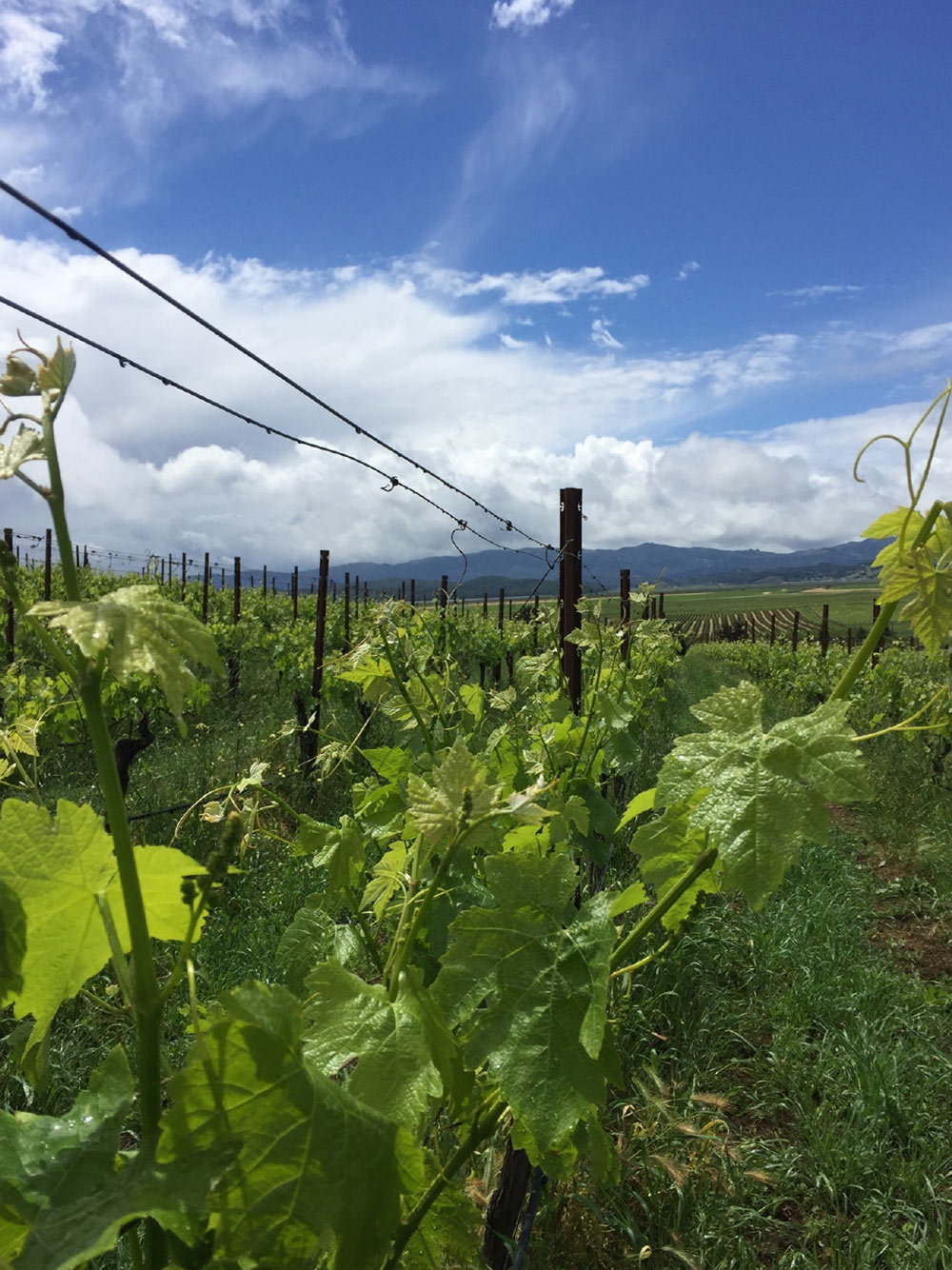 "Joan and Jim Griffin were among the very first that I asked—nay, begged—for fruit when I started Bedrock in 2007."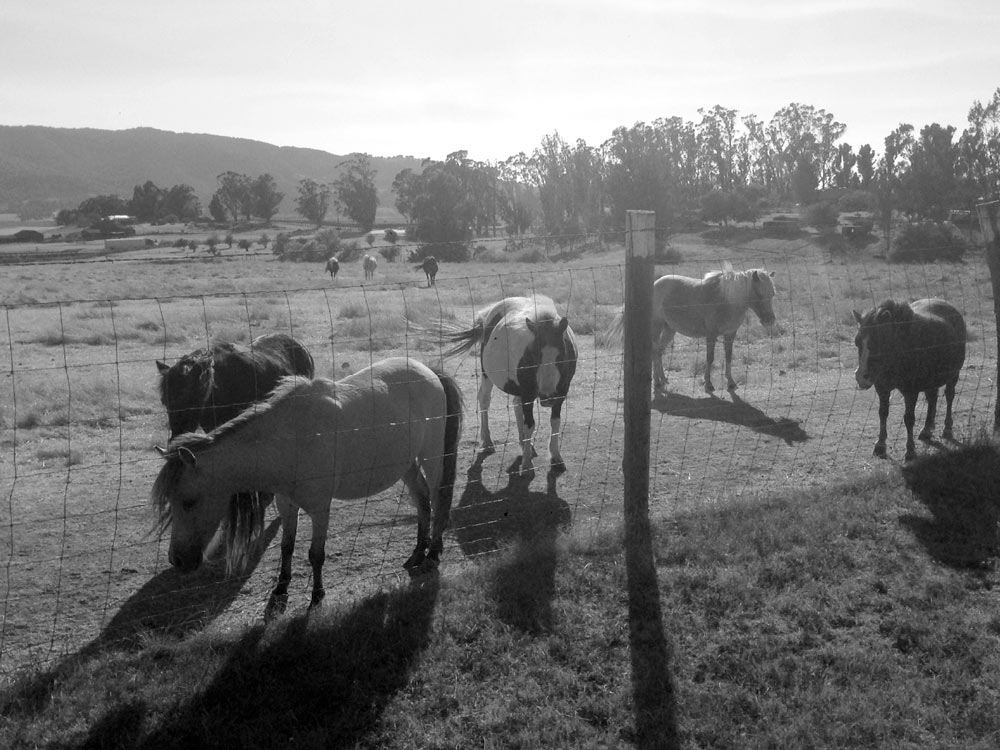 Then, in the early part of 2009 I received an email from Joan Griffin saying that she might have some Syrah for me. Oh glory hallelujah! That year I got to enter the hallowed ground.
Bedrock receives Noir, 470, and 877 Syrah from the vineyard. Though the pressure is high at a place like Hudson to stand up to the incredible winemakers receiving fruit, in a way the stakes seem even higher at Griffin's Lair. Though both vineyards have made archetypal Syrahs in the realm of my tasting experience, the Griffins hand-farm every vine. It is a tiny vineyard, and that the vines are so snug with those going to winemakers who garner my every respect, makes it incredibly special. Like the tiny plots of Chaillots or Reynards in Cornas, incredible diversity of winemaking style and excellence in execution can exist across a truly unique and amazing terroir.
I only hope that I can make a wine that might inspire the winemaking impulse in someone else on a cold winter night as Manhattan traffic roars by.
Hudson Vineyards
Napa, Carneros
If there is any vineyard I am lucky enough to get fruit from that needs no introduction, it is this one.
Farmed by the indefatigable Lee Hudson, who is aided by the brilliance and experience of Kelly MacLeod and Andres Urena, Hudson Vineyard is an example of what perfectionist farming, undertaken for decades, can create. It is an honor to be trusted with four separate blocks of fruit from the vineyard. T-east and T-west were planted for my dear friend Michael Havens back in 1993—making it the oldest existing Syrah in the Carneros. In addition to these two blocks, Bedrock also receives two killer parcels of fruit planted to Alban-selection Syrah from both the front ranch and the back.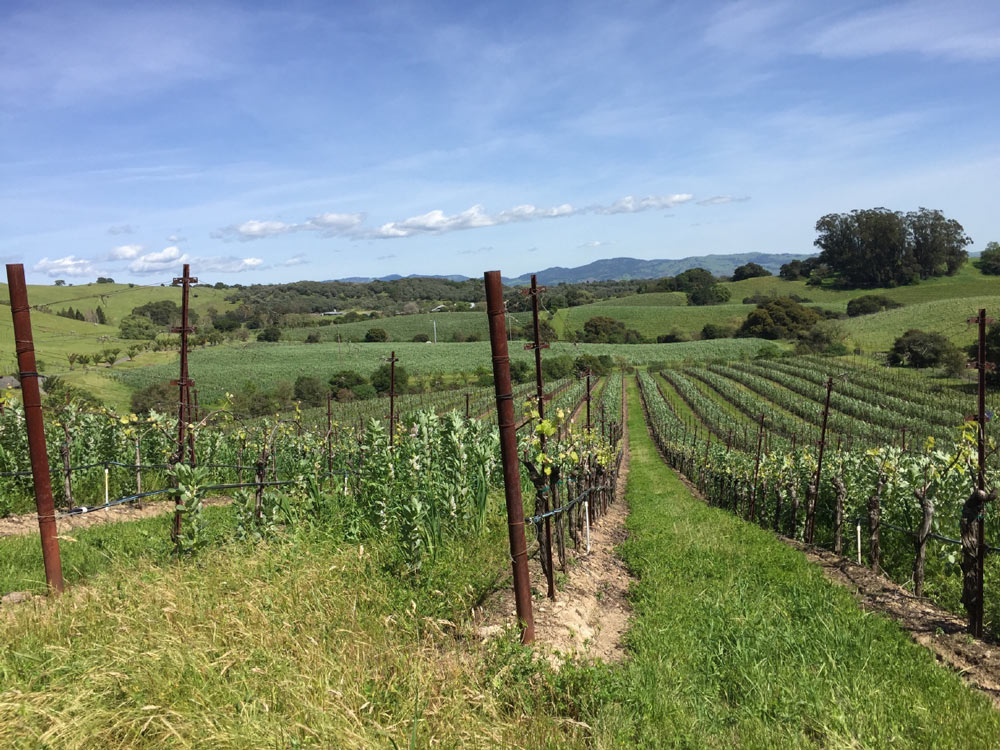 "I used to think I liked simple things," Hudson said. "My life has proven that I must love complicated things."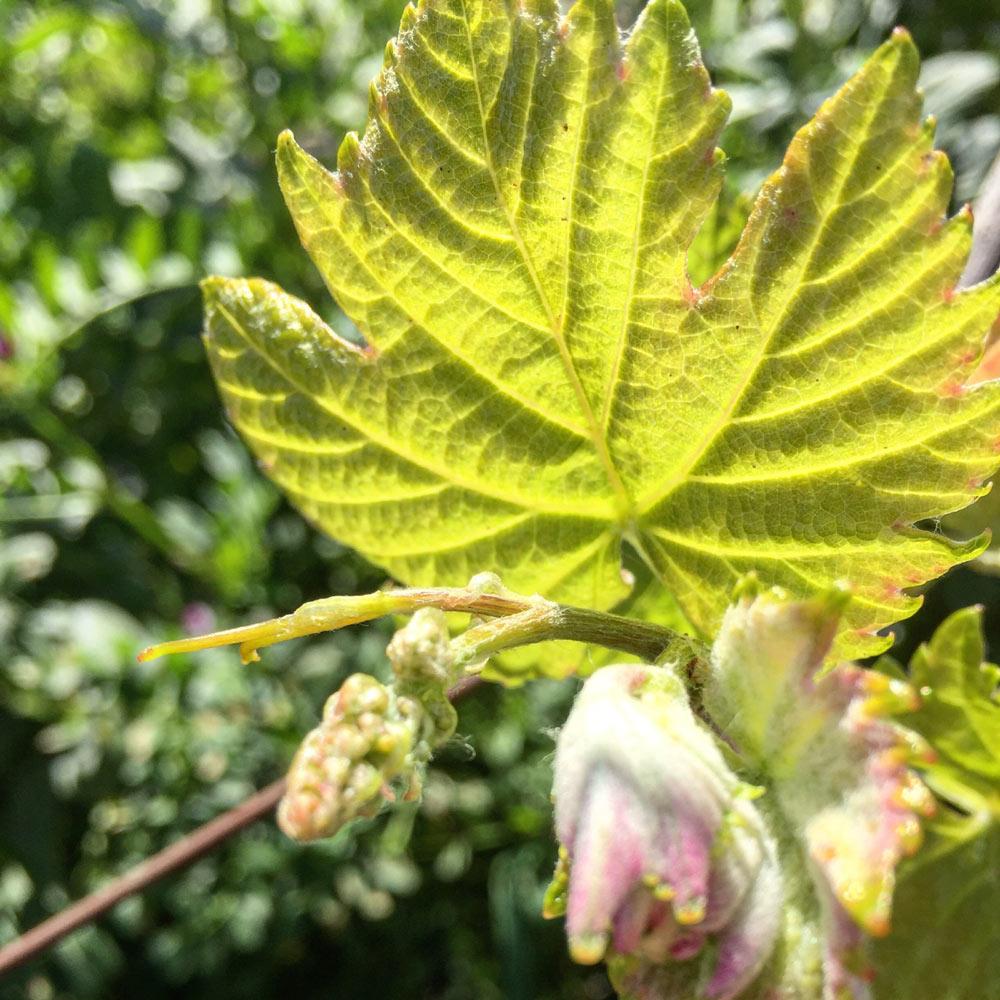 Though I am not sure that Lee knows it himself, many a person, upon entering this piece of land deem this "Hudsonia." It is not hard to see why. Not only are some of the best grapes in California grown here, but the passion applied to grapes is also applied to the creation of thousand pound pumpkins, gourds that would make Shaquille O'Neal feel inferior, friendly and delicious pigs, and breathtaking grounds. There is a magic here—but it is that magic that only hard work, imagination, and absolute perfectionism combined with an already starkly beautiful scape can achieve. Somehow I feel more whole when I leave Hudson Vineyard—it is rare that any piece of land anywhere can do that.
Alder Springs Vineyard
Laytonville, Mendocino
Alder Springs Vineyard, stretching across ridges of decomposing sandstone outside the remote town of Laytonville, is the magnum opus of founder Stuart Bewley. There is a reason that winemakers from all over California clamor to work with fruit from this site despite its distant location in Northern Mendocino.
Stu is one of the most thoughtful vineyard growers we have met and very little goes on at the vineyard that has not been deeply considered. Stu designed his own chevron shaped drainage systems that feed into multiple sediment pools to ensure minimal impact on fish populations in local streams. Knowing that the soil is naturally prone to erosion, Stu farms the entire vineyard without tillage—something unfathomable to many growers but paramount to ensuring fundamental sustainability of farming. He has formulated his own frost protection material. And beyond this, Stu is constantly experimenting with a dizzying array of rootstock, variety and clonal combinations. Want to see what the same clone of Syrah looks like on three different stocks side-by-side? You can find it here.
Most importantly of all, the wines from the vineyard are both unique and delicious. The Syrah we make from the site is always peppery and raw, infused with violets, spearmint and pig fat. The wines are always well-structured and promise to be long-lived. Hopefully they do justice to Stu's vision.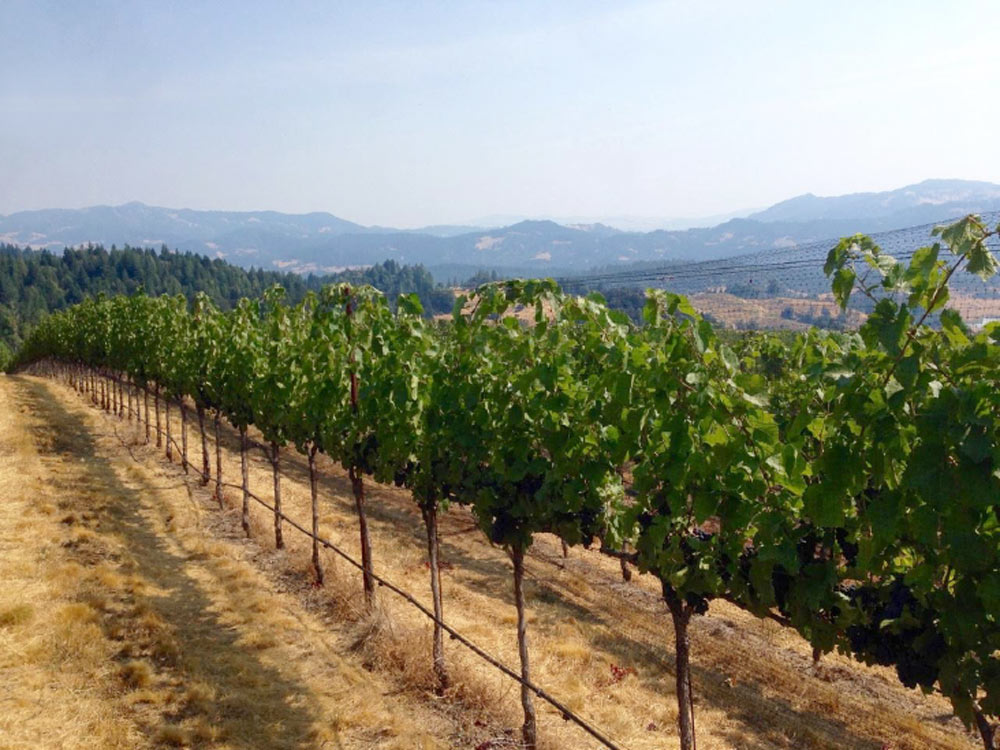 Dolinsek Ranch
Russian River Valley
From our 2010 Newsletter: I have been searching for a compliment to Lorenzo's and Bedrock Heritage from the Russian River since the moment Bedrock Wine Co. was conceived in 2007. I have looked at a number of beautiful old vineyards—many with names some would recognize—looking for a vineyard with the diversity of field blend, age, and site that would be on par with the standards I am looking for. It took a damned-long time, but I have finally found one that is going to be great!
In truth, even this one took a while. It was on a trip to look at the ever-lovely Rebecca's Vineyard that I first noticed the rugged, ancient vines lying on a northward slope, a mere 1/2 mile down the road. I strained my head trying to get a better glimpse of those mysterious, gnarled plants clinging to the hillside.
Nearly a dozen times and a few neck-crinks later, wondering what it could be, I finally decided to stop and knock on the door of the beautifully cared for home in front.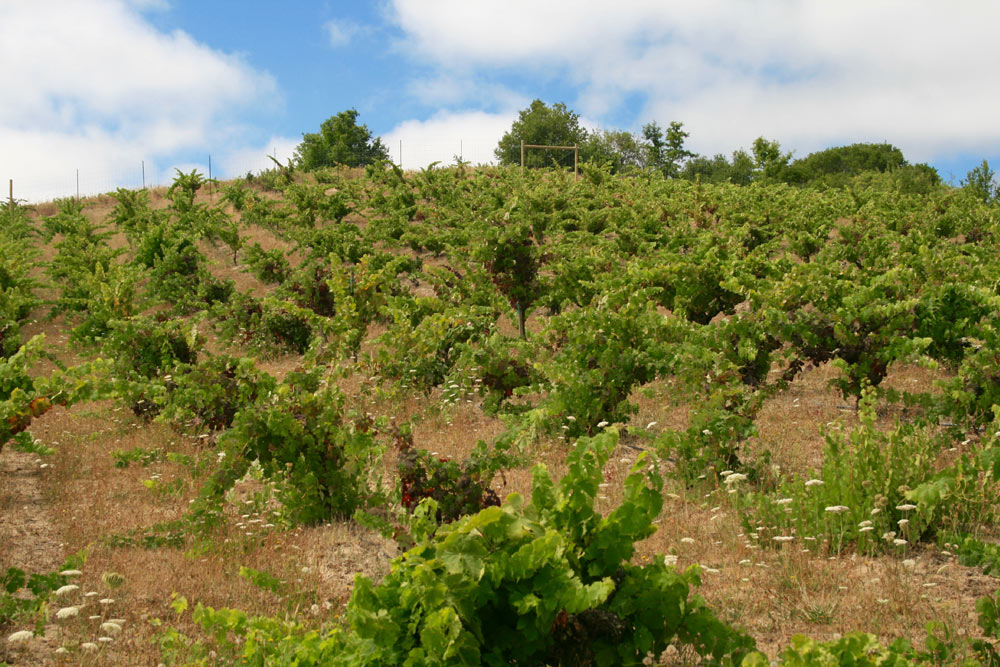 Surely, a vineyard on the site was famous! Sandy Goldridge loams, vines that are clearly nearly a century old, lying in the Golden Triangle—spitting distance from Rebecca's, Swan, Kistler's Vine Hill, and Pax's Walker Vine Hill.
So, with my close friend Chris Cottrell in tow, I sacked up, stopped, and knocked on the door. In fact, as it turns out, I had tasted the fruits of the vines many, many, times before from bottles held tightly in my father's basement (for one of the wineries who received the fruit was, indeed, close to his heart). Though known as Dolinsek Ranch now, the vineyard is the old Frati Ranch, made into so many great wines by my father's mentor Joe Swan.
It may be one of the greatest sites for Zinfandel I have ever seen. The oldest vines, planted in 1910, are roughly 70% Zin, and the rest is made up of Alicante Bouschet, Tempranillo, Petite Sirah, Teroldego, and a few mysterious others.
When the father of Angelo Frati planted vines on a north-facing hillside of Sandy Goldridge loam in the heart of the Russian River Valley back in 1910 he had no idea how happy he was going to make a young winemaker 99 years later. The vineyard yields tiny quantities of intense fruit. It is this unique combination of fast-draining soils, cool climate, and interplanted varietals that allow the wines from Dolinsek Ranch to be utterly distinctive. It is the perfect cooler-climate compliment to the Heirloom Wines made from Bedrock Vineyard in Sonoma Valley and Lorenzo's Vineyard in Dry Creek Valley.
The vineyard is carefully tended by the Dolinseks, who purchased the property a decade ago and have helped ensure the vineyard thrives for years to come. It is my great hope that Bedrock Wine Co. gets to enjoy seeing it thrive alongside them for years to come.
Papera Ranch
Russian River Valley
A few years ago Papera Ranch faced death from the Pinot Noir firing squad. Remember that fickle post-Sideways moment when everyone, seemingly dumb to the basic rules of supply and demand, wanted to plant Pinot Noir? Well, that was a dark age for Old Vine Zinfandel in the Russian River Valley. It was the persecuted in the Holy Reformation and Crusade of Pinot Noir. Too many great old Zinfandel vineyards were ripped up and replanted in the dark opening decade of the new millennium.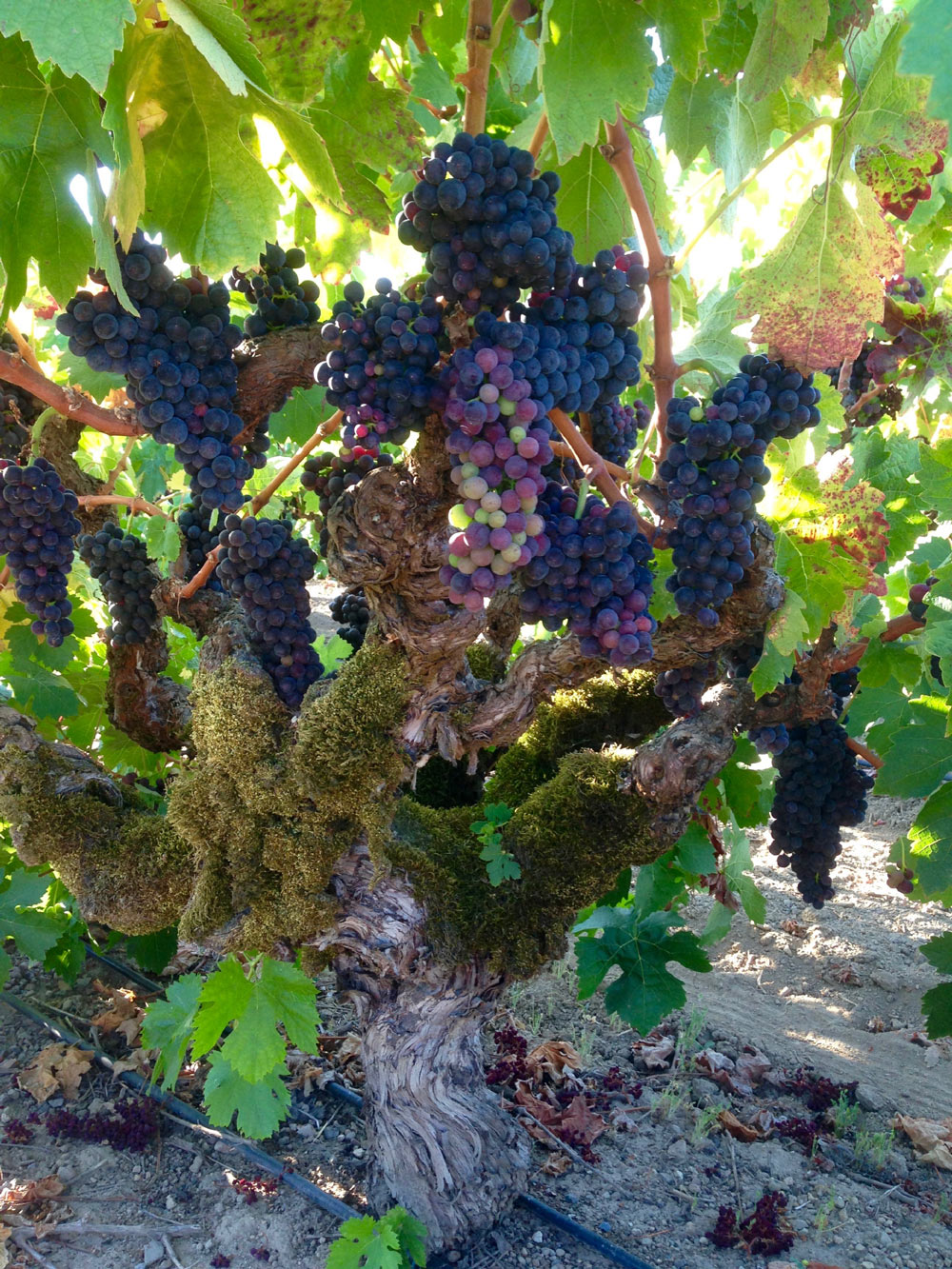 The year it was planted, Franklin Roosevelt was taking his first oath of office and Prohibition was repealed. "This was all going to be ripped out a few years ago and planted to Pinot Noir," Officer says of the 76-year-old vineyard.
Thankfully, Papera Ranch was not one of them. Stuart Coulson was the savior when he bought the property at the urging of Carlisle's Mike Officer. The vineyard, on the corner of Piner and Olivet Road, was planted in 1934 by Charlie Papera. It is a stone throw from other great sites such as Carlisle Vineyard, Mancini Ranch, and the ghost of Barbieri (a victim of the Pinot-madness whose loss we mourn). Though most of the vineyard blocks are close to 100% Zinfandel, there is one block that is highly mixed—having lots of Carignane and dashes of Petite Sirah, Valdigue, Cabernet, Trousseau Gris, Mission, several unknowns, and even a lone Pinot Noir vine. Clearly, this is the one that is a perfect fit for Bedrock Wine Co.!
Since the remainder of the vineyard goes to such luminaries as Carlisle, Novy, and William-Selyem, it is an enormous honor to receive fruit from the 1407 vines of the mixed, Block 6!
Sodini Ranch
Russian River Valley
Planted in 1905, Sodini Vineyard is located along Limerick Lane in the far eastern reaches of Russian River Valley. Dry-farmed and low-cropping, the resulting wines tend to be a hybrid of the opulence found in Dry Creek with the bright acids and freshness of Russian River Valley—aka, delicious. The vineyard was used by Chris Bilbro at Marietta Cellars in 1978 and continued to go to the winery until 2012, when we started taking the fruit. In addition, Rochioli vineyard designated fruit from the hillside block in the 1990s.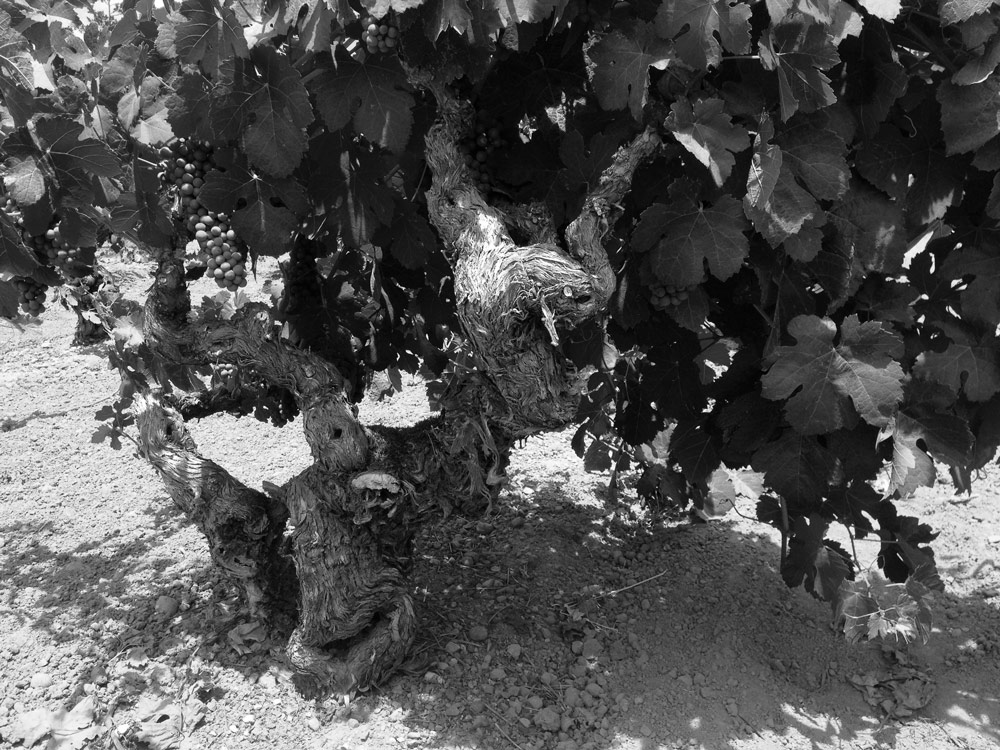 Just as the vineyard character is a hybrid of Dry Creek weight and Russian River flash and perfume, the soils are a similar reflection of the two areas. The flat section of the vineyard features sandy-clay loam soils very typical of the Russian River Valley plain while the hillside features red clay loam soils more similar to those found at Teldeschi Ranch on the Dry Creek Bench. In addition to this the soils are chalk flecked, a reminder that Chalk Hill is also in close proximity.
Owned by Steve Sodini and his wife, we are thrilled to lease and farm the vineyard—which has allowed us to start renewing the soil and site for future generations. In most years we select the best barrels for a vineyard designate while the remaining portion is a main portion of our Old Vine Zinfandel bottling.
Carlisle Vineyard
Russian River Valley
One element we love most about the wine industry is getting to work so closely with good friends and fellow mission driven winemakers. We think one of the coolest things about our business is that those who are technically our competitors are also those with whom we share vineyards, ideas, and discussion. There is a prevailing ethos that a "rising tide raises all boats," and that having multiple expressions of a vineyard site is more interesting than having just one. Carlisle Vineyard is one great example of this as its owners, Mike and Kendall Officer, are dear friends and two of the most decent people you will ever meet.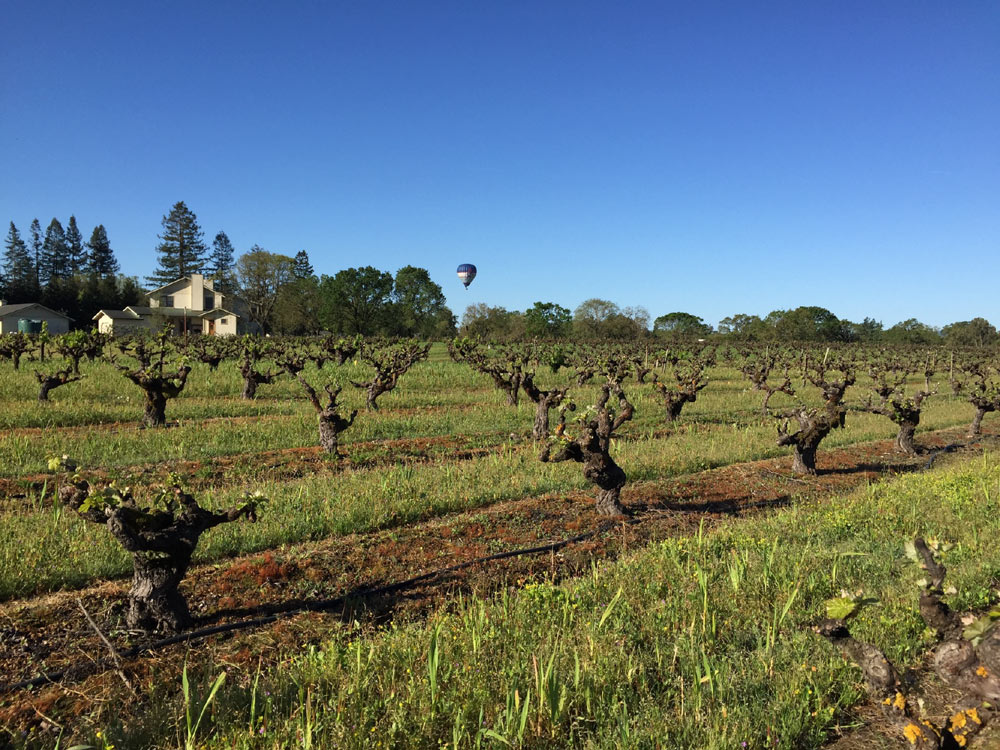 Mike and Kendall's vineyard, planted in 1934, lies in what we call the Piner/Olivet area of the Russian River Valley. Around the intersection of these two roads you can find a rare clumping of old vineyards that have somehow survived the last 100+ years. Papera, Mancini, Ziegler, Saitone, Montafi, Two Acres, and more can all be found here, sending their roots into grey clay loam soils. Even in the midst of such great company Carlisle Vineyard, which was formerly known as Pelleti, stands out in no small part due to the incredible love and care (aka, greenbacks!) that Mike and Kendall have put into it over the years.
Despite being nearly 90% Zinfandel, Carlisle Vineyard also stands out for the stunning breadth of varieties found among its old vines. It is a little like traipsing through a living museum of known and not-so-known varieties. Cultivars like Albillo Mayor, Grec Rouge, Mondeuse, Clairette Blanche, Petit Bouschet, Tempranillo, Flame Tokay and many more can be found among the more standard field-blending varieties of Alicante Bouschet, Petite Sirah, and Mataro. I would merit a guess that the soaring aromatics and complex yet satisfyingly juicy fruit profile can be traced to the subtle intricacies and contributions of these varieties.
This is a world class vineyard, uniquely California and uniquely Russian River Valley.
Limerick Lane Vineyard
Russian River Valley
Planted in 1910, Limerick Lane Vineyard is a story of rebirth. After a long time of not quite living up to its potential the property was purchased by our great friend Jake Bilbro who has restored it to its deserved superstar status.
Located along a section of road once known as "little Italy" due to the number of old vineyards lining the road (Sodini, Bacchi, Forchini, etc.) this vineyard technically lies on the eastern skirt of the sprawling Russian River Valley AVA. To us, the fruit from this vineyard is markedly different than other vineyards in the area—possessing both power and poise combined with remarkable grace and room-filling perfume. Every year the tiny amount of wine we get to make from this vineyard competes for the best wine in the cellar.
This vineyard also has important meaning to me, as my father made the Limerick Lane Winery wines from 1994 to 1996 at Ravenswood. He has long thought the vineyard to be one of the best in the state for Zinfandel, and it is wonderful to see it getting the meticulous farming it deserves.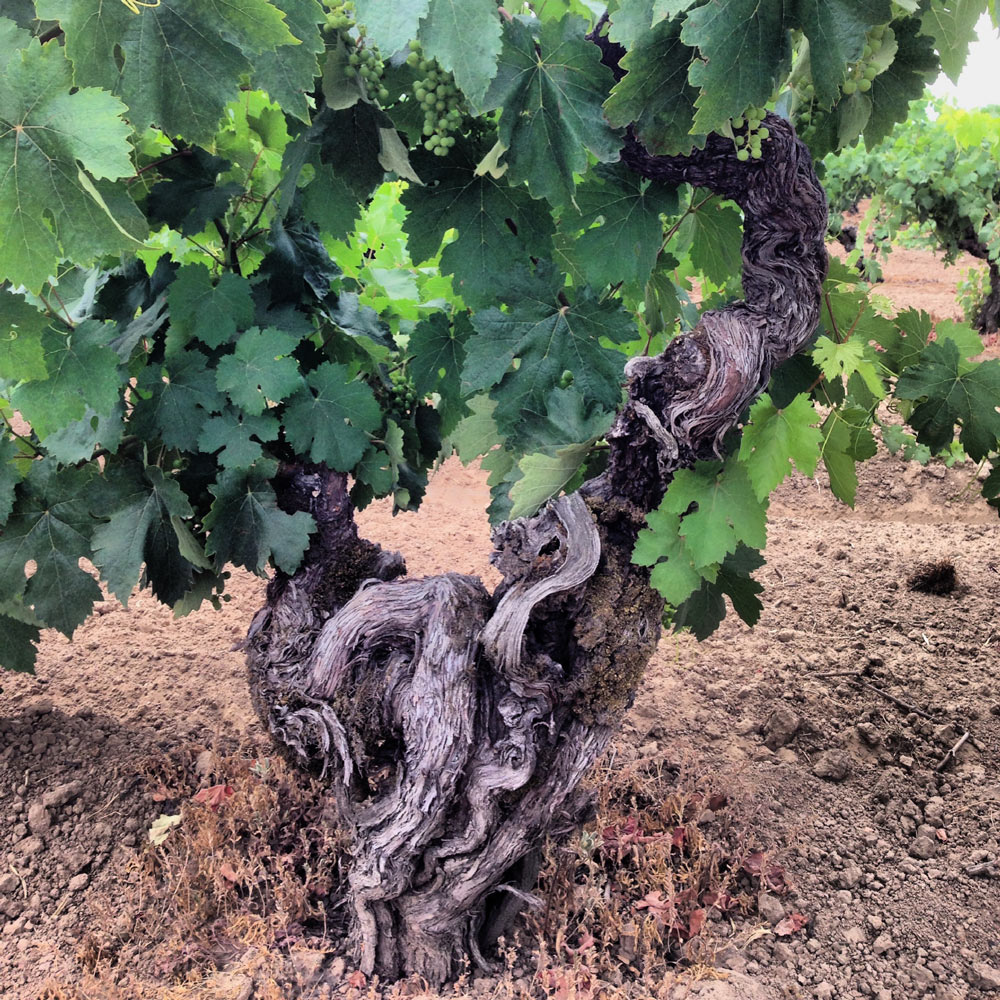 Nervo Ranch
Geyserville
With its oldest vines planted in 1896 on 25-35 degree slopes of decomposed shale, Nervo Ranch is one of the most distinct vineyards in Sonoma County. Its oldest blocks are a unique patchwork of red and white varieties once used for the now extinct Nervo Winery's "California Burgundy." Our Heritage Wine, which comes from these ancient vines, is made up of Zinfandel, Petite Sirah, Negrette (once known as Pinot St. George), Alicante Bouschet, Carignan, Grenache, Grand Noir, Trousseau Noir, Valdigue, Abouriou (Early Burgundy), Semillon, Burger, Chenin Blanc, Sauvignon Blanc and more. It tends to be both perfumed and aromatic, reflecting the shale soils and climate that define the area south of Geyserville.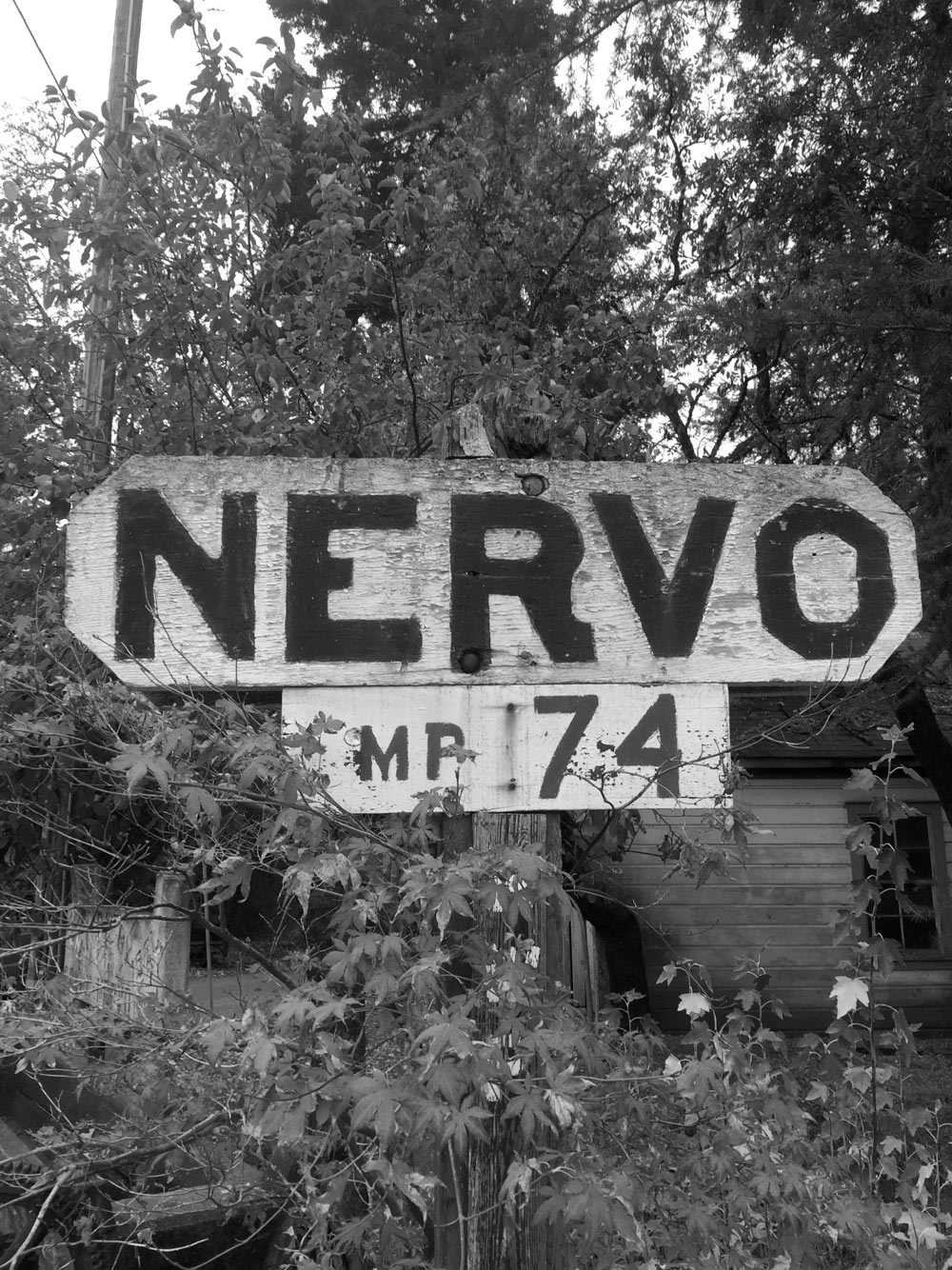 When we first started working with the property it was being farmed by the amazing Joe Mengali, who over the course of decades poured hours of work and love into the property (including installing, in seeming direct contradiction to physic, a Pacific Union Caboose on the top of the hill). Unfortunately, Joe, who was exposed to Agent Orange while serving in the Vietnam War, passed away from cancer in 2015. With the blessing of the Mengali and Nervo families we assumed farming control of the vineyard starting with vintage 2016 and started pouring our own hearts into the magical place. We hope Joe would be proud.
Teldeschi Ranch
Dry Creek Valley
Dry Creek Valley is about as close to God's land when it comes to Zinfandel as there is. Within the valley itself, there is a particular area where vinous angels sing the loudest and most beautifully. This of course, is the Dry Creek bench.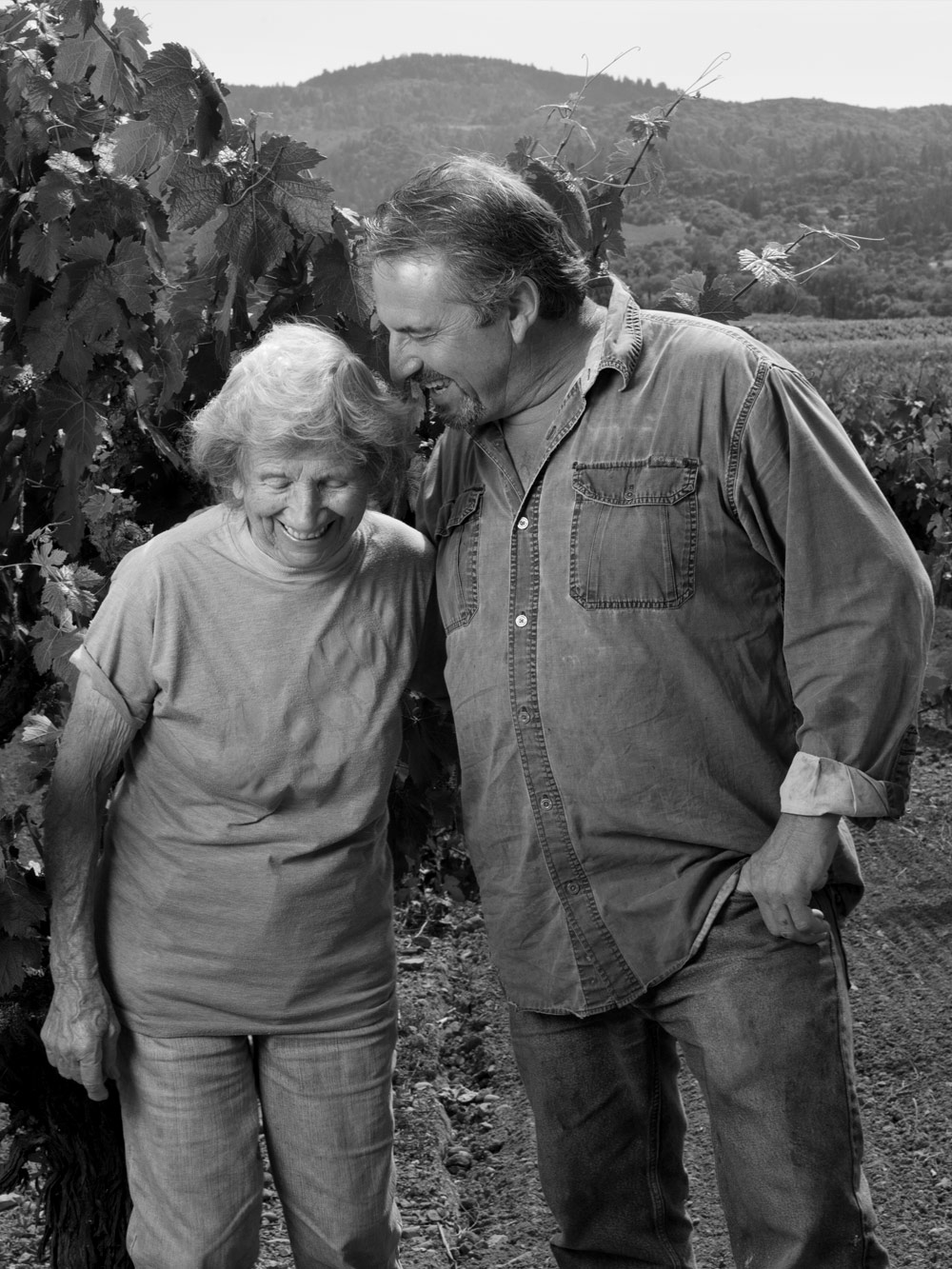 "Of all the lovely old vineyards that my father and I have had the opportunity to work with, this is the longest and one of the deepest relationships we have formed."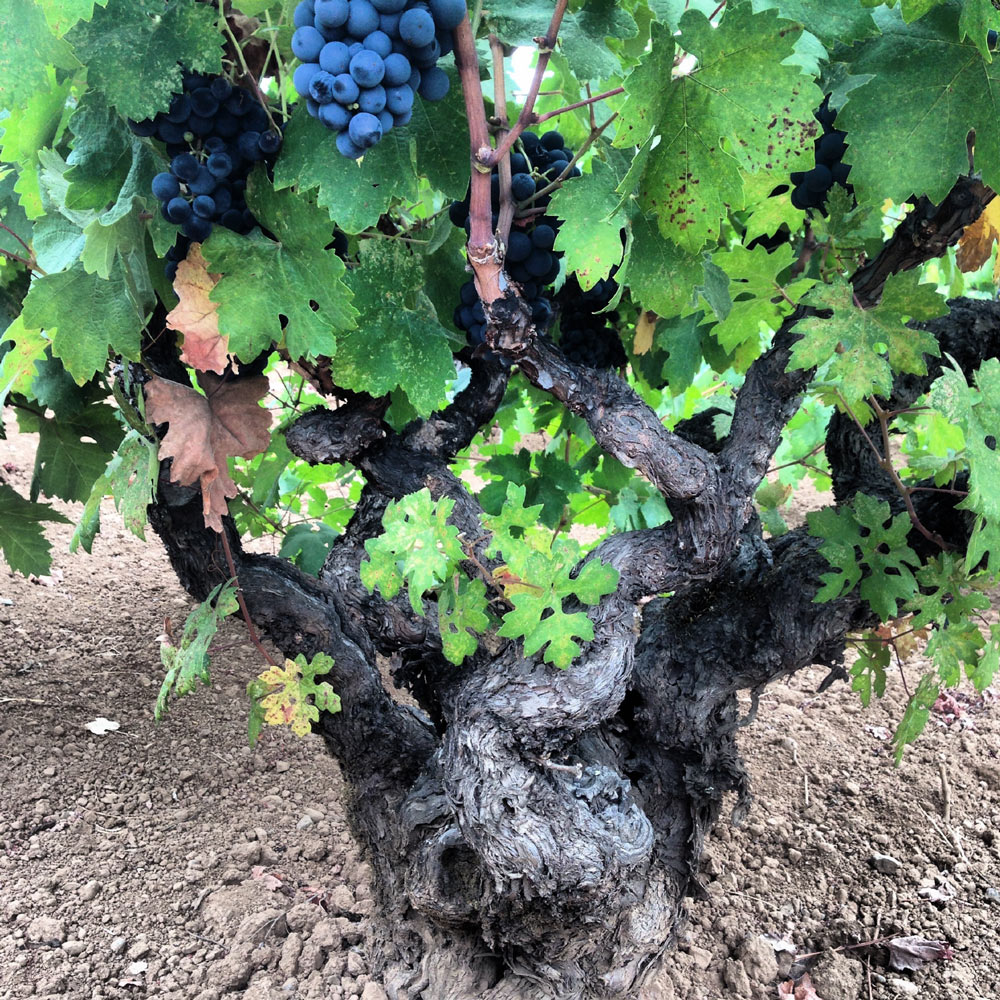 Upon this bench of red, cobbly, porous soil, grow the old dry-farmed vines at Teldeschi Ranch. Of all the lovely old vineyards that my father and I have had the opportunity to work with, this is the longest and one of the deepest relationships we have formed. My father, after working with Teldeschi fruit with Joe Swan in the 70s, began working with the fruit for Ravenswood in 1984. He has worked with the fruit every year for over three decades and when I went to start Bedrock it was only natural to have Teldeschi be one of the foundational wines for the new project.
It was Lorenzo, the grandfather of the current generation of the family that planted the oldest Zinfandel, Petite Sirah, and Carignan vines on the ranch, from which the Heritage Wines springs forth. Thus, the Lorenzo's Heritage wine is named for him.
Kirschenmann Vineyard
Lodi
Dry-farmed, own-rooted, and planted in 1915, Kirschenmann is owned and farmed by our dear friends Tegan and Olivia Passalacqua. Tegan, who is the farming and winemaking force behind the Turley wines along with his own Sandlands label, is probably the best farmer of head-trained vines in the state of California. The vineyard, which lies in a cool section of Lodi cradled by the Mokelumne River, makes wines of perfume and finesse. Though many think of Lodi as a very hot area, in reality Kirschenmann is cooler on most days than St. Helena and Calistoga. This, combined with the silica-rich soils and excellent, organic farming makes for a unique combination and equally delicious wine.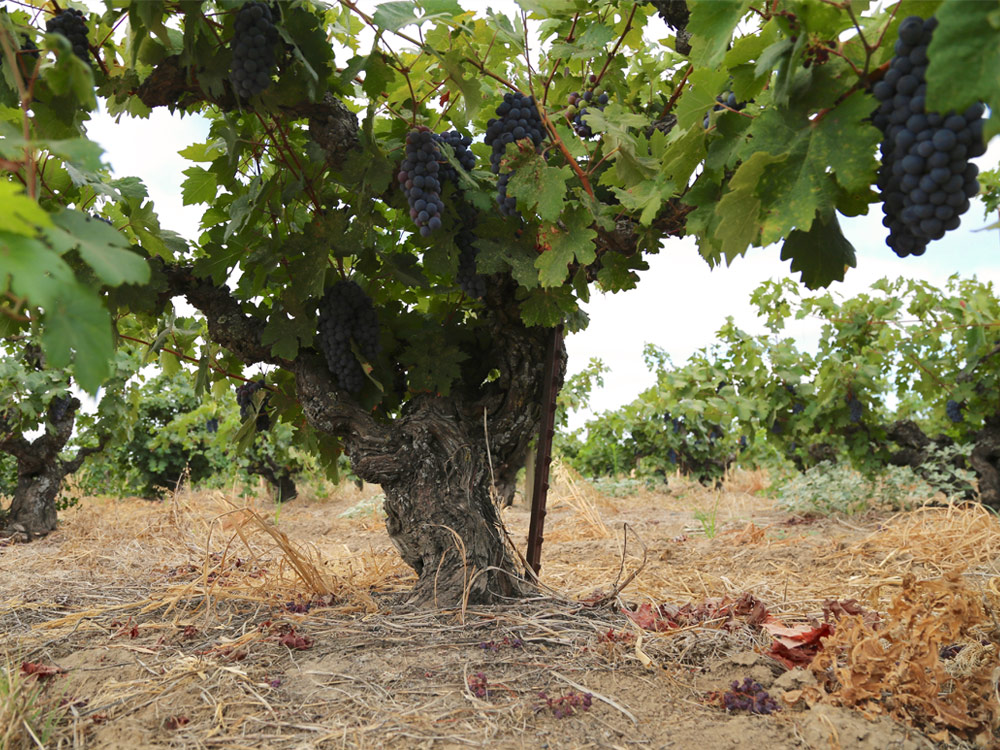 Katushas' Vineyard
Mokelumne River
Katushas' Vineyard is the result of kismet, which seems appropriate for a vineyard named after mothers.
It all started the week of Mother's Day in 2014. Chris and I were out in Lodi checking in on the 1915 plantings at our friend Tegan's Kirschenmann Vineyard when we noticed a "for sale" sign on the much rougher looking vineyard across Schmiedt Lane. As we wandered into the vineyard, a truck raced up and the driver asked us what we were doing. We responded that we were interested in the vineyard. He told us, in a tone full of intimations, that he had an offer in on the piece and he was going to rip out the old vines and plant it to walnuts. Needless to say, that rubbed both Chris and me in the wrong way.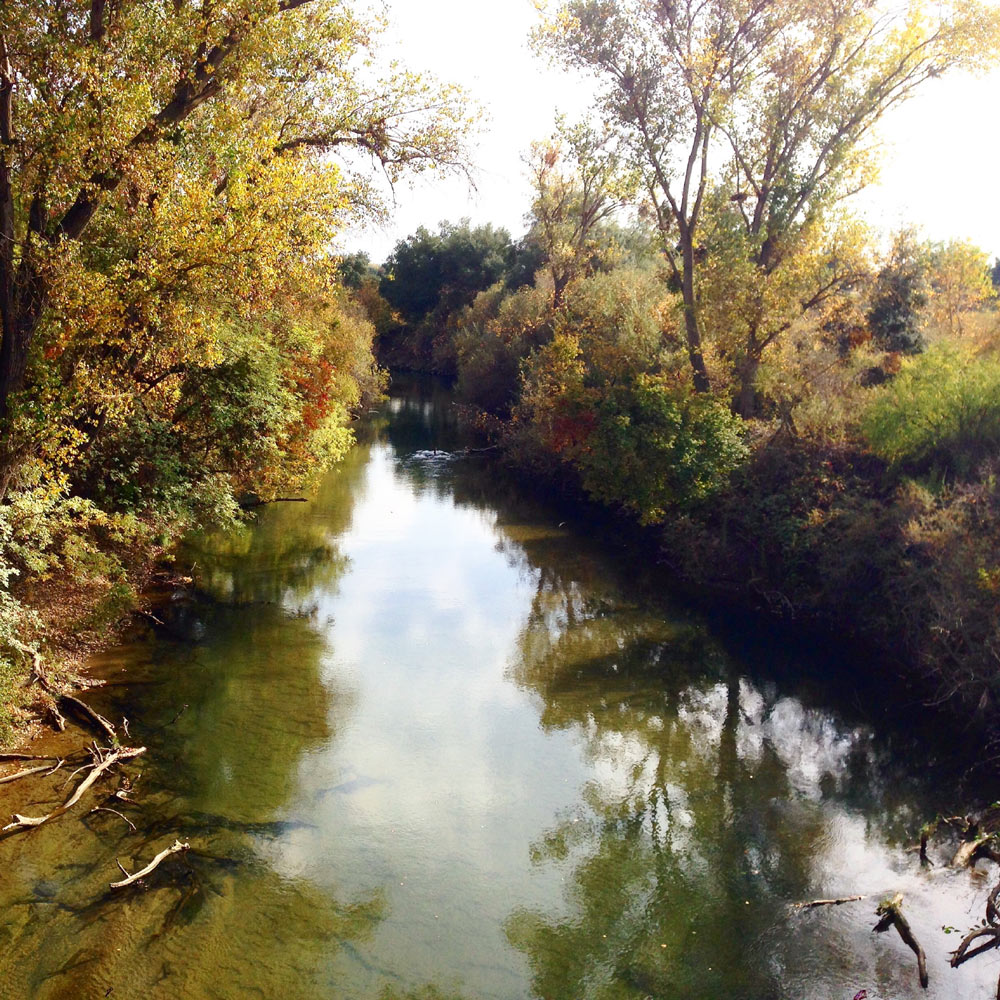 "Katushas' Vineyard is the result of kismet, which seems appropriate for a vineyard named after mothers."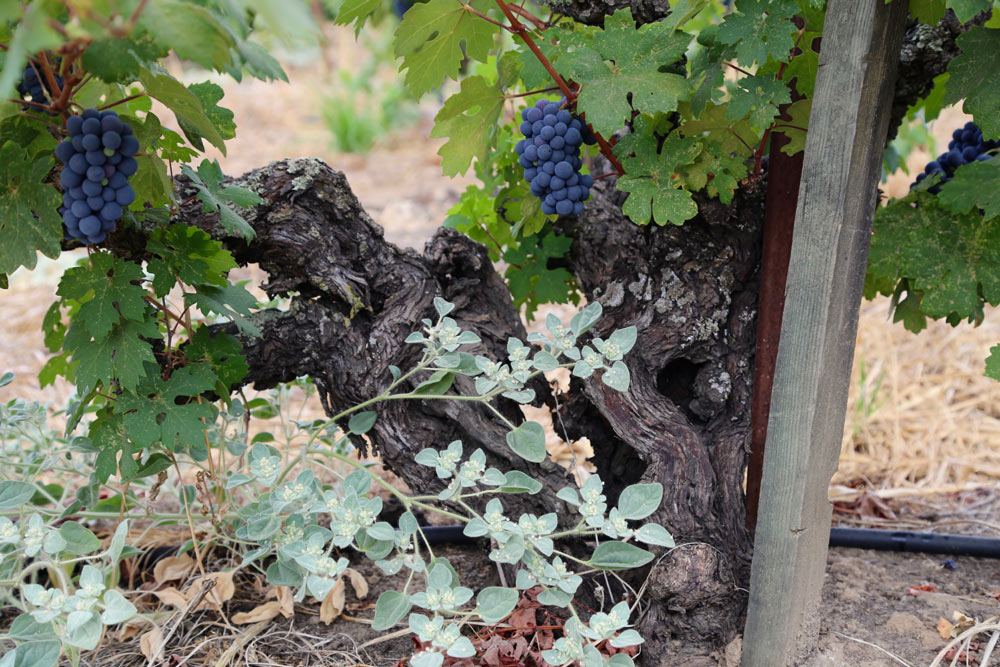 Luckily, one of our good winemaking friends in Lodi also happens to be an excellent realtor, and made some inquiries for us. Four days later we had an offer in on the vineyard and three days after that we were signing papers. We had bought our first vineyard!
In the subsequent years we have changed the entire culture of the straggly vineyard. We installed subsurface irrigation in place of the old school furrow irrigation that had been used. We pruned the 10-acre vineyard ourselves, removing a massive amount of dead wood and cutting back the number of spur positions to about half of the previous amount. On top of this, we spread nearly 100 tons of compost and dolomitic lime to rectify the ill effects of years of cheap nitrogen fertilizer and subsequent decline in soil pH, and planted cover crops. In only two years shoot length and vine vigor have dramatically improved as has wine quality.
We decided to name the vineyard Katushas' for a few reasons. First, the vineyard previously had no name and was one of so many faceless old vineyards in Lodi that went into larger blends. Second, the ancestry of many of those who settled in Lodi were of German-Ukrainian descent. My step-mother's mother was named Katusha and fled Ukraine. My mother, who goes by Kate, was born Katherine (the English version of Katusha). Third, our offer was accepted the day before Mother's Day. It all seemed to indicate some maternal strumming of the celestial strings.
Esola Vineyard
Shenendoah Valley
Es-sul-ah, a tripping tap of three syllables, light of my life, fire of my loins. My sin, my soul. You get it, we love this vineyard enough to awkwardly crib Nabokov.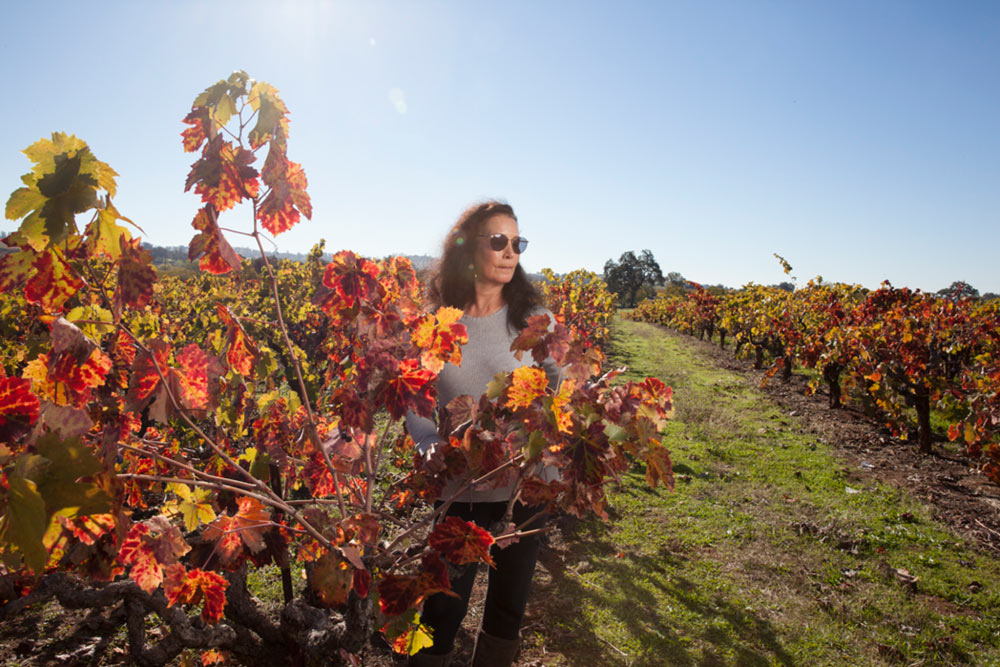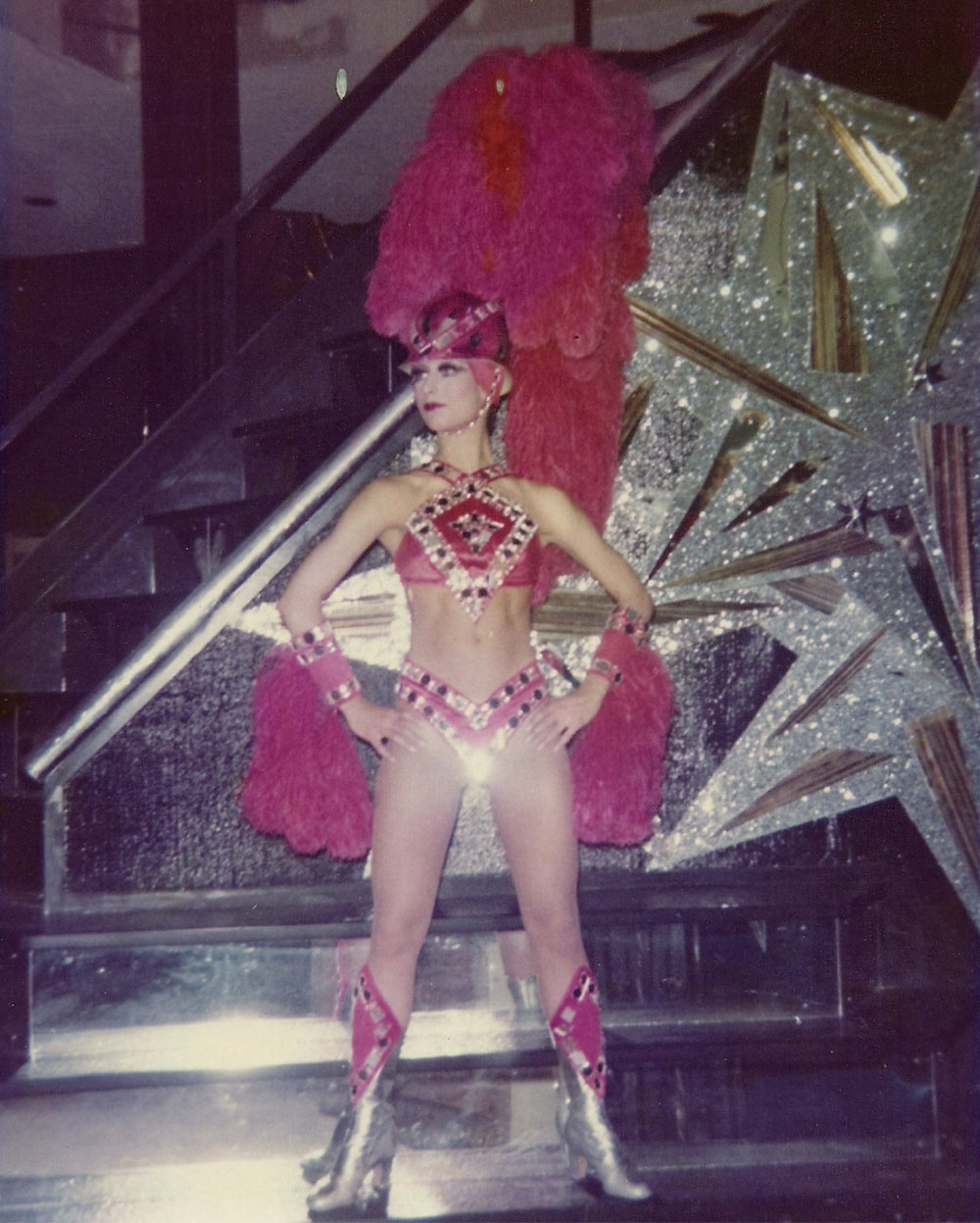 Owned by the colorful Denise Esola, a woman who has lived enough for multiple lifetimes, this vineyard lies in the heart of Amador's Shenandoah Valley. Her head-trained, dry-farmed Zinfandel vines are planted on granitic soils and have perhaps the smallest berries and clusters I have seen on the variety. The resulting wines are fragrant and structured expressions of the grape—among my favorite wines we make every year. The wines from the vineyard seem fitting for one run by a former dancer, they are showy, lithe, and fun!
Alta Vista Vineyard
Moon Mountain District
Gewurtzraminer planted on ridiculously steep slopes in the 1940s high above the town of Sonoma? It exists, albeit barely, at Alta Vista Vineyard.
When you arrive at the old homestead at the entrance of Alta Vista Ranch you would never know a vineyard exists on the property. The old ranch home, dating to the 1800s and a slew of outbuildings, barns and worn rock walls instead greet the eye. Four dogs enthusiastically greet you, two nanny goats bleat, and a perhaps not completely sane, half-blind horse stalks as one fords a small creek and walks through a hillside meadow. During the spring and early summer the smell of yerba buena and chamomile crushed underfoot waft into the air mixing with laurel bay and a hint of the future dry season ahead. Here, just a few miles from downtown Sonoma, one feels lost in time.
To arrive at the vineyard one continues on from the meadow and outbuildings and winds, for another quarter mile, up a road hewn from boulders of basalt and the signature red loams of this part of the Moon Mountain District AVA. Even at the top of the road it is hard to immediately discern the vineyard, until upon undoing the many lashes of wire and rope holding a make-shift fence into place and walking another fifteen feet upwards the vineyard opens up before you. A stunning two and half acres of vines happily rooted into a sunny southward facing slope. If you make it to the top of the vineyard you are treated to one of the most gorgeous views of San Pablo Bay, Mount Tamalpais and San Francisco in the distance.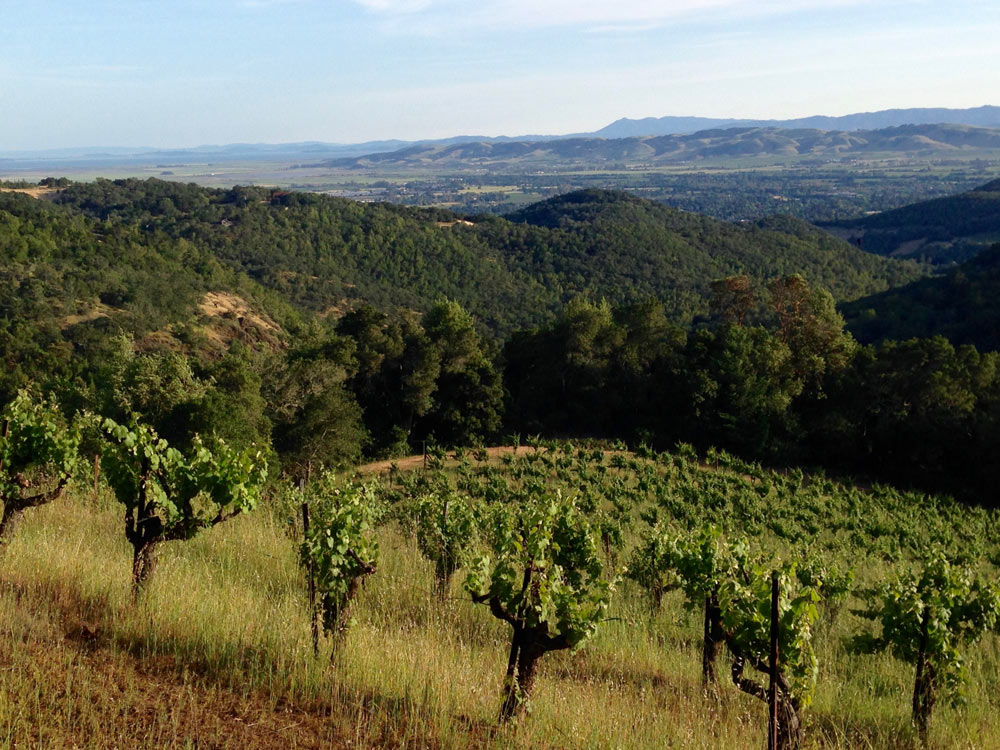 I had known of Alta Vista Vineyard as a child as my father worked with the vineyard in the 90s—making some rather delicious dessert and drier style wines from the site. In fact, the vineyard was a bit notorious for having a very aggressive billy goat that had, at one time, broken the arm of one of the owners. However, Constellation eventually gave up the contract and the person who had been farming it just could not muster the desire to farm such an odd little parcel so unfriendly to more modern mechanical agronomy. Around 2010 my father heard that it been torn up.
Thankfully the property owners, Helle and Mac Griffiss reached out to me in 2012. Mac had told Helle that I loved old vineyards, and Helle, who had known me since childhood having worked at my elementary school in Sonoma (and still calls me "Morg" in her adorable German accent to this day) found my number. Unfortunately the vineyard was in pretty rough shape having not been pruned for at least two years with powdery mildew and botrytis essentially allowed to run unchecked.
In 2012 and 2013, Alberto, Diane and crew spent an enormous amount of time repruning the vineyard for future crop, cutting out piles of dead wood, and extracting unmoored old fruiting wires and replacing them. In 2014 we received our first small amount of crop from the vineyard that allowed us to make a whopping two barrels from the 2.5 acres of fruit (I think we set a county record for price-per-ton of Gewurtz that year, touching $11k a ton in farming costs). We received similar, though slightly increasing amounts of the perfumed, vivacious fruit in 2015 and 2016.
Now, to be honest, I don't really like Gewurtzraminer all that much. Too often it can be cloying and heavy, either all about perfume and bitter, or excessively alcoholic or sweet. It is a tough grape to make well. However, I LOVE Alta Vista Gewurtzraminer. For me, the secret lies in its mountain location where the fruit maintains unusually high malic acid for the variety. Since we do not allow the finished wine to go through malolactic (where that malic acid gets converted to softer lactic acid) the wine carries all the gorgeous aromatic hallmarks of lovely Gewurtz but also retains acidity, nerve and freshness.
Happily, we have a long-term agreement to continue farming the vineyard and ensuring that it continues to bear its lovely fruit.
Compagni Portis Vineyard
Sonoma Valley
Compagni Portis Vineyard is a jewel remaining from a bygone age. Prior to the current dominance of Chardonnay and Sauvignon Blanc in the realm of California whites, the white wines of from our Golden State came from a mélange of aromatic and semi-aromatic varietals. Though many of these vineyards were torn up for a good reason—Palomino and Colombard hardly made inspirational wines and were more valued for their productivity—a few unique vineyards survived.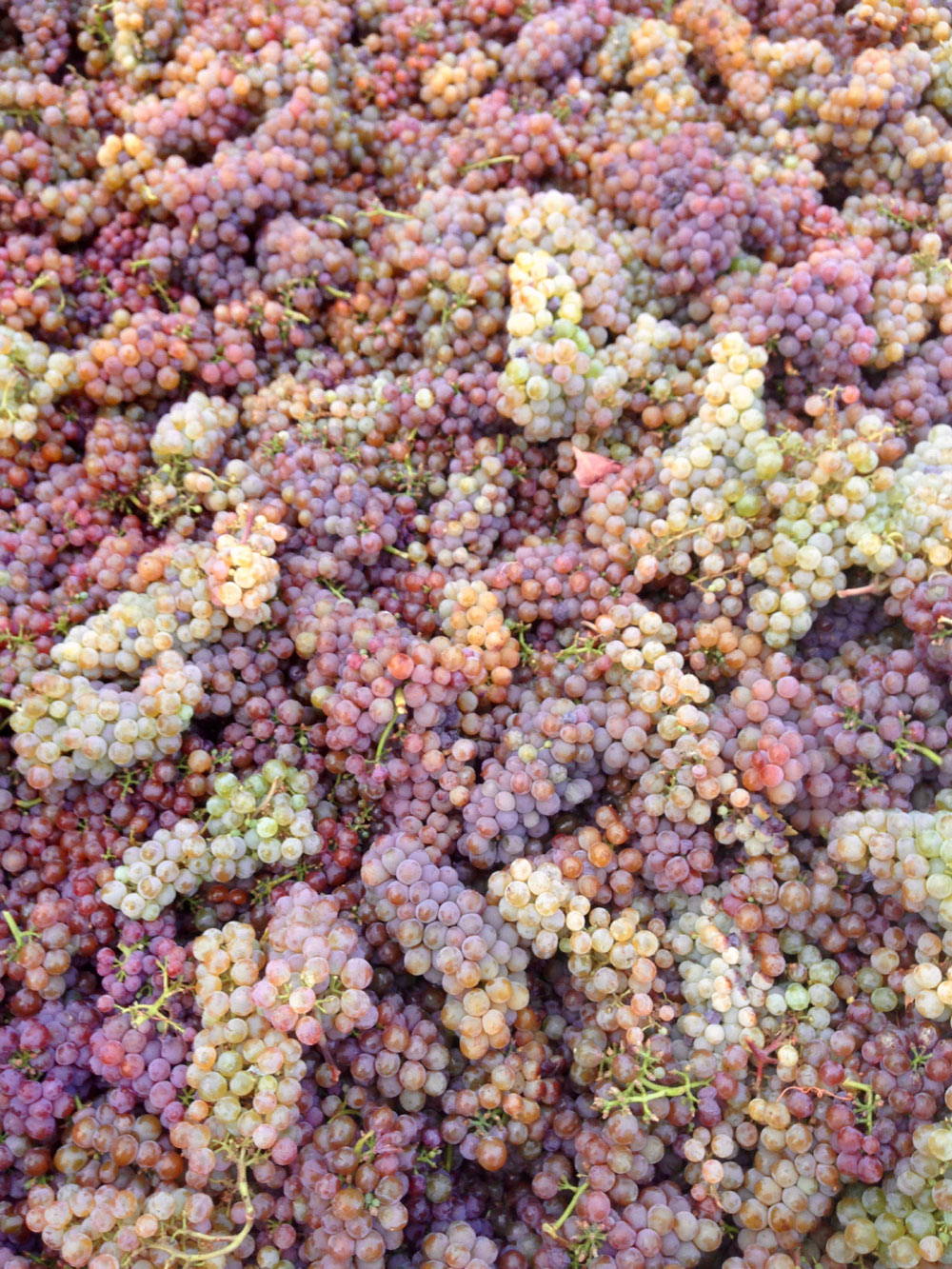 Compagni Portis is one of these remaining treasures. Planted in 1954, the vineyard is organically dry-farmed under the guidance of organic guru Phil Coturri. The head-trained vines are a palate of fascinating white varietals—Gewurtzraminer, Trousseau Gris, Riesling, Burger, and some that remain unidentified—producing stingy yields of under 1 ton per acre.
The resulting wine is exotic and aromatic, dense and totally unconventional. It is as unique as the vineyard from which it comes.
Wirz Vineyard
Cienega Valley
The area south of Hollister, known as Cienega Valley, is perhaps one of the last relatively undiscovered bastions of old vines in California. At the forefront of remaining vineyards is Pat Wirz's own-rooted Riesling. Planted in 1963, the vineyard is one of the oldest Riesling vineyards in the country. That it is planted decomposed granite and limestone soils in the eastern shadow of the Gabilan Range just adds to its significant appeal and personality. Just one look at the magnificent Pat Wirz himself tells you all you need to know.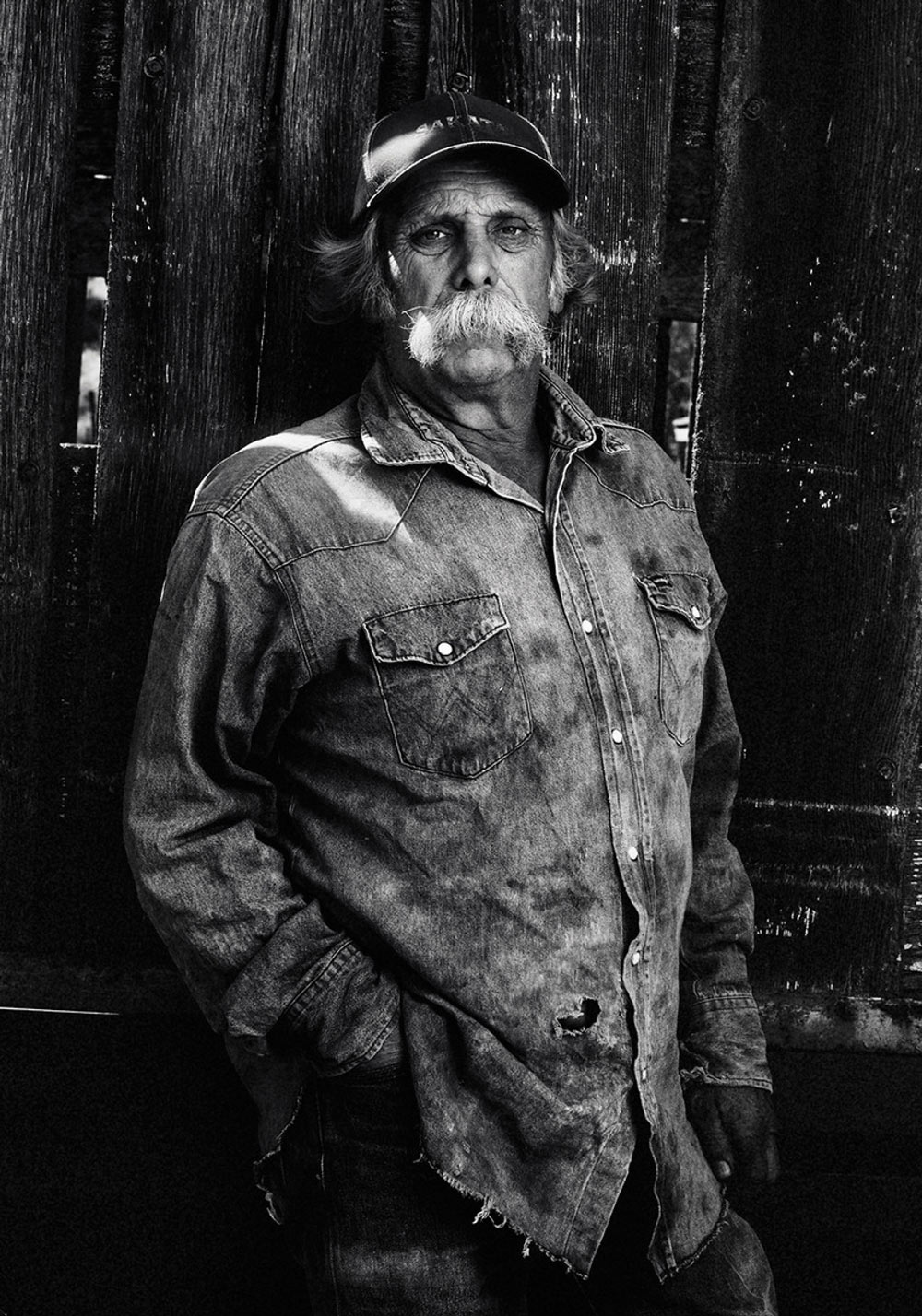 "Just one look at the magnificent Pat Wirz himself tells you all you need to know."
Gibson Ranch
McDowell Valley
Gibson Ranch is perhaps the most visually arresting vineyard we work with. Located in a high Mendocino Valley outside of Hopland, the vines are as wild and huge as the rest of the landscape. The oldest plantings date to the 1880s and are tended by our friend Scot Bilbro of Marietta Cellars.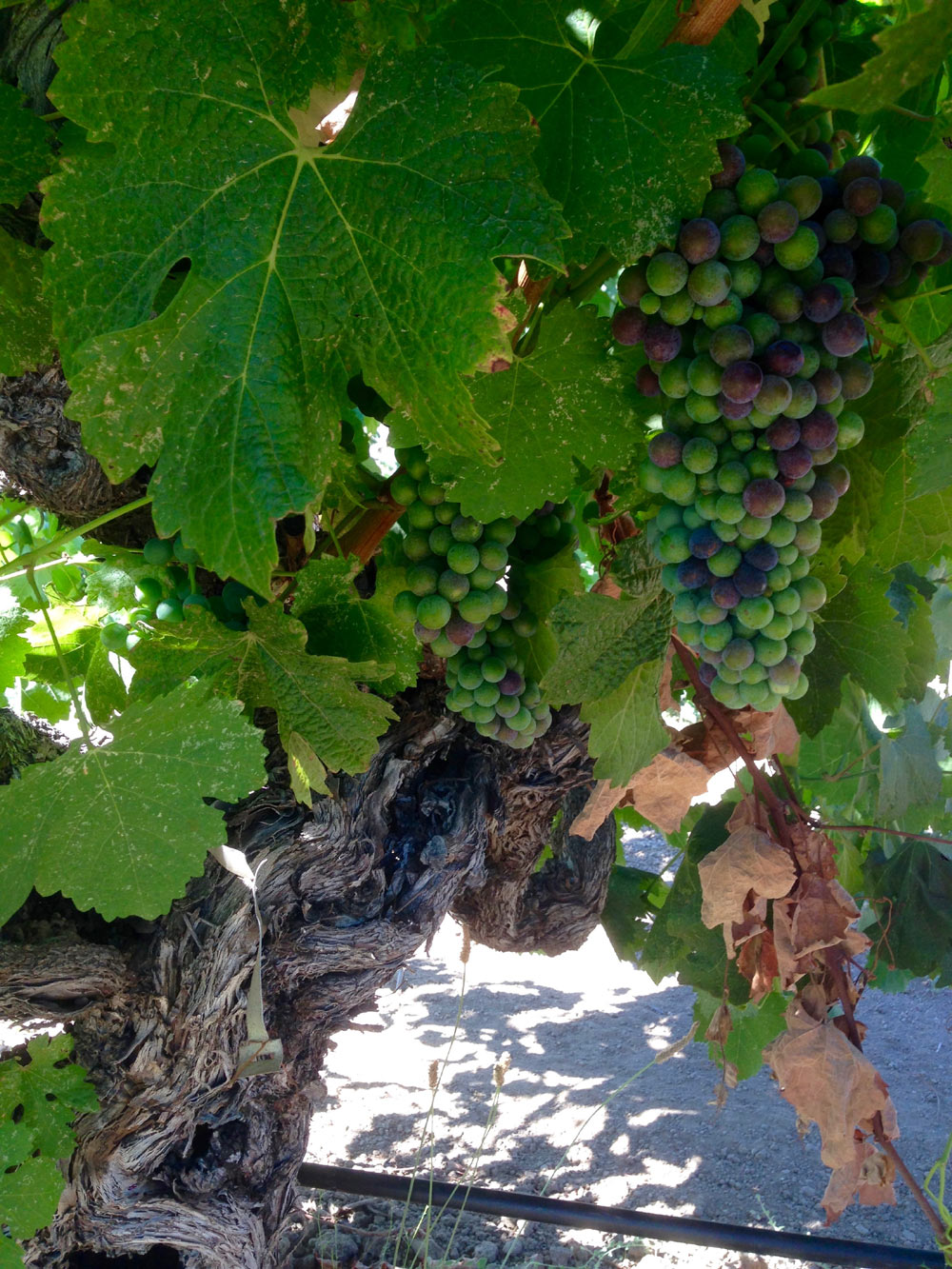 Bedrock is fortunate to work with a couple of blocks from the ranch. We are the only ones to receive the unique field blend of Syrah, Petite Sirah, Peloursin, Trousseau Noir and Grenache that makes up our Gibson Ranch Heritage Wine. On top of this we receive the equally old mixture of Grenache Rouge and Gris for our two odes to the great wines of Bandol- Ode to Lucien and Ode to Lulu Rose.
Puccini Vineyard
Sonoma Valley
A jewel of a vineyard planted in 1906, Puccini is perched at 750' above Shultz Road in the back-alleys of Sonoma Valley (its closest neighbor as the bird flies is Rossi Ranch). I, half-jokingly, call the vineyard "Clos de Puccini" due to its resemblance to some of the walled Clos of France. The 1-acre vineyard was put in by a stonemason who erected a beautiful rock wall around three sides of the vines on the steep hillsides to keep out grape-loving wildlife. The vineyard is gorgeous, and has been lovingly cared for by the Puccini family for the last two generations.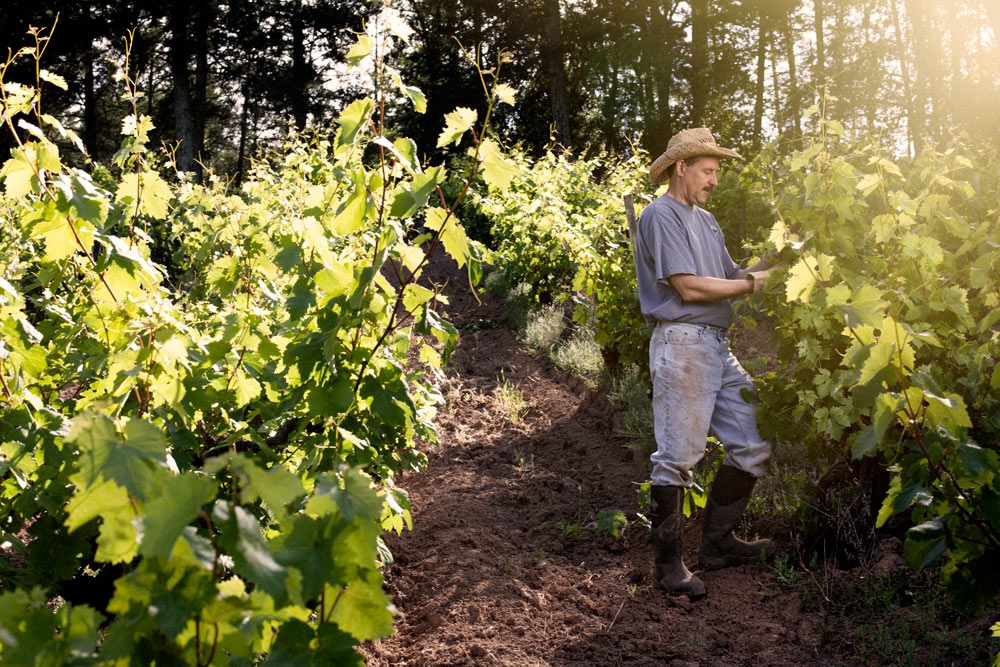 Cole Ranch
Thanks to the intrepidness of our assistant winemaker Cody Rasmussen, we started working with this gorgeous vineyard in 2016. Planted in 1974, Cole Ranch is unique in that it is a monopole AVA—meaning the only vineyard in the appellation is Cole Ranch itself. Located on the road between Ukiah and Boonville in Mendocino, the ranch lies in relative isolation from other vineyards (not so much for all the cannabis grown in the surrounding hills).